Sister scores a double, alongside Left Bank, Drama Republic and New Wave wins
Sister has scored two commissions while Left Bank Pictures and Drama Republic have bagged orders as Netflix UK unveiled a slate of five scripted projects for 2022.
Chernobyl producer Sister is teaming up with Abi Morgan for thriller Eric, written and created by The Split scribe, and is also behind Greek mythology-inspired fantasy Kaos.
Left Bank Pictures is producing youth-skewing series The Fuck It Bucket, while Drama Republic is crafting a reboot of David Nicholls bestselling tragi-comic love story One Day, in association with Universal International Studios and Focus Features.
Elsewhere, New Wave is working with Andrew Onwubolu, better known by his stage name Rapman, for sci-fi series Supacell.
The six-part series follows a group of random people from South London who unexpectedly develop superpowers, with no clear connection between them other than that they are black.
As they process the effect their abilities have on their daily lives, one man has to bring them together to avoid the powerful agents that have noticed their special powers.
Rapper, actor, writer and director Rapman is linking up again with New Wave exec producer Mouktar Mohammed and associate producer Henrietta Lee, following their collaboration on Rapman's crime drama feature Blue Story. Supacell is written and directed by Rapman, who also exec produces alongside Mohammed and Lee. Netflix will produce Supacell.
Morgan's Eric is set in 1980s Manhattan, and follows the story of Vincent, a puppeteer on America's leading kids' TV show. When his son Edgar goes missing, grief-stricken Vincent finds solace through his friendship with Eric, the monster that lives under Edgar's bed.
Set against the backdrop of the AIDS epidemic, Detective Ledroit, who is tasked to uncover internal corruption in the NYPD, finds himself drawn into the search for Edgar, whilst privately coming to terms with secrets of his own.
Sister produces in association with Morgan's Little Chick. Eric is exec produced by Jane Featherstone and Lucy Dyke for Sister and Morgan.
Eight-part Kaos, written by The End of the F***ing World's Charlie Covell, centres on six humans who, unaware of their importance or their connection to each other, suddenly learn they are component parts of an ancient prophecy.
The intertwined storylines, which also involves Zeus, are a modern spin on the Greek myths and fuses dark comedy, love and power.
Featherstone and Chris Fry will exec produce for Sister with Katie Carpenter as series producer and Harry Munday as producer. Georgi Banks Davies (I Hate Suzie) is lead director and Davies and Covell will also exec produce, as well as Nina Lederman.
The Fuck It Bucket (8 x 45-minutes) revolves around 17-year-old Mia Polanco, following her release from hospital after a lengthy battle with anorexia nervosa and tipped back into the chaotic world of sixth form.
However, while she has been recovering, her friends have been acquiring knowledge and experiencing things she has never known prompting Mia to make a bucket list.
Left Bank Pictures produces the series, which is written by Ripley Parker. Andy Harries, Sian McWilliams, Ripley Parker and Rob Bullock exec produce. Huberta Von Liel is producer.
Finally, Drama Republic's One Day reboot, comes from an experienced writing team led by Nicole Taylor, working with Anna Jordan, Vinay Patel and Bijan Sheibani.
The series explores the experiences of Dexter and Emma on a specific day each year, marking the first time they spoke on the night of their graduation in 1988.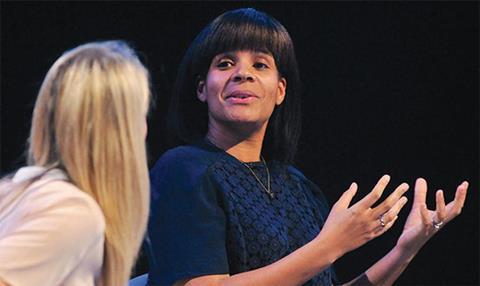 Anne Mensah, vice-president of UK series, commissioned the series with her team, noting the range of British creators and writers attached to the projects.
"Netflix UK is building on success - it's hard to top the virtuosity and global impact of our existing, award-winning British series," said Mensah.
"To be able to add such a variety of new titles to our slate, knowing there is more to come, is really a testament to the strength and artistic confidence of the British television industry. It's a very special time to be part of this creative community, to be able to work with such amazingly talented writers, directors and producers."