Dillan Nicholls from the National Film and Television School (NFTS) was named as the winner of the inaugural Altered Images Student Post Production Award at Broadcast Video Expo last week.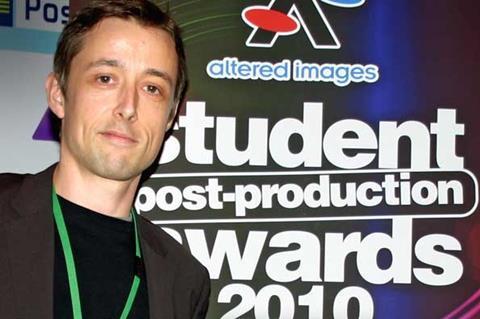 Nicholls was given the prize – an Avid Media Composer DX - for his work as a VFX supervisor, compositor, colourist and online editor on a project called "Toshiba Production Line."
The winning work was completed as part of an in-house competition at the NFTS, with an all student crew – plus a few recent graduates – given the task of creating viral commercials on a £5k budget.
"The judges felt that the Toshiba Production Line film showed outstanding quality," said Altered Images chief executive David Johnson. "The two minute production includes incredible slow motion footage that tells a story of transition from the first minute to the last."
The project was shot green screen and provided a good stage for 33-year old Nicholls and his team to showcase their talents using Maya, Nuke, Speedgrade and iQ.
"It was great for us as it was a really post heavy job with backgrounds all done in CG and lots of compositing required," he said. "That was quite unusual."
Nicholls is currently studying a course in Digital Post Production.
Before going 'back to school' he gained valuable television experience working for Al Jazeera as an editor and promo producer and as head of creative at CNBC Africa.
Nicholls' ambition, once he graduates, is to get into high-end film effects work, although that is still subject to change he says.
"This award is good for raising my profile and the profile of the course," he says humbly, admitting that the project was very much a team effort. "I think I'll be lucky if the prize ends up in my bedroom!"
The Altered Images Student Post Production Awards ceremony took place at Broadcast Video Expo 2010 on 18 February.
The competition is designed to reward exceptional work in post-production, film and television making from students at BTEC, Undergraduate and Postgraduate level.
Toshiba Production Line – selected credits
Joana Flor – director
Anna Stuart - producer
Dillan Nicholls – VFX supervisor (on set and post), compositor, colourist, online editor
Kassiani Koufaki – CGI, special effects (on set)
Zsolt Balogh – CGI
Michael Aaglund - editor
Lukas Trimonis - camera tracking
Andy Quinn – compositor
Zhe Wu – sound designer
Jon Opstad – music composer