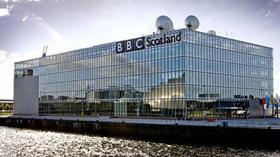 First Minister of Scotland Nicola Sturgeon has announced £475,000 of funding to go towards the National Film and Television School (NFTS) to open a training school at BBC Scotland's studios in Glasgow (pictured) and Dumbarton Studios.
Sturgeon revealed the funding for the NFTS Scotland school in her keynote speech at the Edinburgh International Television Festival. The aim of the institution is to "enhance vital skills provision arising from the expected growth in film and television production in the country."
It follows the BBC committing an additional investment of £40m a year in Scotland with the launch of a new channel next year and plans for more network output from Scotland in future.
NFTS Scotland is expected to open in January 2018 with students enrolling from April 2018.
Specialist courses will be designed to meet the growing needs of film and television production companies in Scotland, including three-month certificate courses, 12 month full-time and part-time diploma courses and short courses to provide 'Continuing Professional Development' (CPD) in key film, television and games craft disciplines. Courses will include production accounting, script editing and factual development.
It is anticipated that a third of all places in the first two years will be fully funded scholarship places. The Scottish Government and BBC are contributing to a bursary fund to meet scholarship costs and ensure students are drawn from a broad range of backgrounds.
The school expects to have 450 students in the first year of operations (100 full time, 50 part time and 250 on CPD courses) with more than 1,500 students expected to graduate from the facility within five years.
The school says it has secured strong support from the BBC and a range of industry partners including STV, Channel 4, the British Film Institute (BFI) and the producers of Outlander (David Brown), Mad Max Fury Road (Iain Smith) Sunshine on Leith andT2 Trainspotting (Andrew MacDonald).
"While we have excellent university and college provision for a range of screen subjects and media skills, NFTS' plans will complement and expand the training opportunities available in Scotland," said Sturgeon.