Nick Broomfield's latest movie Whitney: Can I Be Me, about pop icon Whitney Houston, faced a challenging road to screen.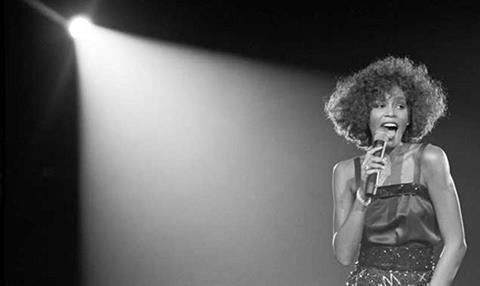 Despite objections from Houston's family, the filmmaker managed to rack up more than 80 hours of interviews with those who knew the US star and is now set to debut the movie in the UK at Sheffield/Doc Fest.
The process became a voyage of discovery for the director.
"Whitney was such fun," Broomfield says. "When she was 'up' she was somebody who was very funny… She was up for a laugh, but the world came crashing in on her. And that was it."
The filmmaker says it was easy to talk to musicians and collaborators who expressed "incredible love and respect for her [Houston]" as someone who would never sing a song the same way twice.
However, it took more coaxing for other friends to open up about Houston's personal life – including her troubled marriage to Bobby Brown, a rumoured lesbian relationship with friend Robyn Crawford, well-chronicled drug abuse, and a sometimes-fraught relationship with her mother and father.
"I had to encourage them not to be censoring themselves,'" Broomfield recalls of his interviewees.

When Broomfield was midway through making the film, he met music video director Rudi Dolezal, who had about 100 hours footage for a never-completed documentary about the singer's 1999 tour.
"Over the years, Rudi had many offers for his footage, but he never wanted to just be an archive source. So we decided to collaborate on this. I was so lucky to work with him," Broomfield adds of his co-director.
Broomfield also had access to intimate (and sometimes stormy) footage shot for the American reality TV show Being Bobby Brown.
The film does show the complicated relationship between Houston and Brown – but doesn't go into the specifics of Brown's arrest for misdemeanor battery in 2003.
"There was a lot of violence in their world. It was an enormous can of worms to open, I felt like if you're going to go into domestic violence, it's obviously not just Bobby. We had enough on our plate already without getting into that culture of violence … and I didn't think it was fair to just point a finger at Bobby Brown," Broomfield explains.
Complicating the movie's journey to screen is the fact that The Last King Of Scotland director Kevin Macdonald is also making a feature documentary about Houston. The teams haven't crossed over other than a "polite exchange of emails".
"Obviously, I like Kevin's films a lot; I respect him. I'll be interested to see their film," Broomfield says.
However, the Houston family, including mother Cissy Houston, are collaborating on MacDonald's film, perhaps one reason they weren't keen to participate with or endorse Broomfield's feature.
The director says his production team is pursued almost daily by the Houston family.
"They try every little thing they can do to make it as difficult as possible for the film to come out," he says wearily.
On-screen participation
Broomfield's own on-screen participation – or non-participation – in the movie is another talking point ahead of the film's release.
The director is very happy not to feature on screen or as the narrator.
"I had this wealth of material, and a lot of powerful interviews, so that meant I was wonderfully irrelevant, and it was with great pleasure that I cut myself out," Broomfield says.
This is notable because many of his early biographical documentaries – including Kurt & Courtney and Biggie and Tupac saw Broomfield adopt his then-trademark style of making himself part of the story (he was also on screen in his last film, Tales of The Grim Sleeper).
"I enjoyed making a particular kind of film years ago, I was the only person doing it, then it became progressively less interesting," he says.
"Each film needs to be a voyage of discovery and it's fun to work in a different way on each film."
Ahead of the film's UK festival berth, Broomfield says he "loves" Sheffield Doc/Fest but jokes that he has had "mixed results" at the festival.
"I got their inspiration award one year which was very nice. Then the following year…I did a secret screening of Sex: My British Job and did a Skype interview. A bunch of the audience just hated the film. So, this year I'm going out there in a very respectful mood," he says with a laugh.
The City Hall screening in Sheffield on June 11 will include a UK-wide satellite release also including Broomfield's Q&A and a tribute performance by Michelle John from The Voice. Also on June 11, Broomfield will participate in the BBC Interview with Louis Theroux.
Dogwoof will release the film in UK cinemas on June 16; ContentFilm handles international sales.
Production companies are Broomfield's Lafayette Film Production and Searching For Sugarman outfit Passion Pictures, with backing from Showtime, which will air in the US in August.
Whitney: Can I Be Me had its world premiere at Tribeca and will screen at Sheffield Doc/Fest on June 11.