Nickelodeon UK is to launch a live-action football programme featuring Spongebob Squarepants after Viacom picked up Football League rights last year.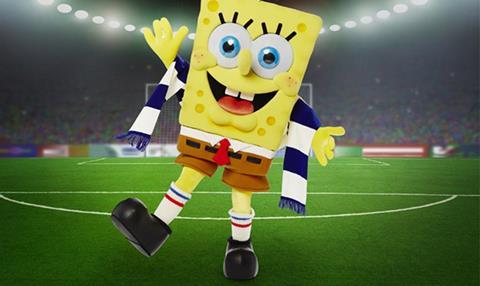 Nick Kicks will feature highlights of Championship, League 1 and League 2 games - which are filmed, edited and delivered by ITN Productions - along with a raft of supporting content produced by Nickelodeon's in-house team.
Each 22-minute programme will include the more humorous moments from the week, along with a look ahead to upcoming fixtures.
Viewers will be taken behind the scenes at some of the 72 clubs, as well as offered the chance to interview players and managers. Spongebob will make regular appearances as he takes on various club mascots in a series of challenges.
The show will run as an 18 x 22-minute series on Nick Toons from February until June, before returning for the entirety of the 2016/17 and 2017/18 seasons.
Nick Kicks was commissioned following the Football League rights deal struck by Nickelodeon's sister-broadcaster, Channel 5, in May last year.
Nick UK & Ireland head of editorial Alison Bakunowich said: "We know that UK kids love football whether it's played in stadiums or in the back garden so it is brilliant to be producing a series that will bring families a Nickelodeon take on the nation's top sport."
The show will be supported online by a dedicated page on the Nicktoons website, including additional behind the scenes content, polls, games and quizzes.