US cable network kickstarts commissioning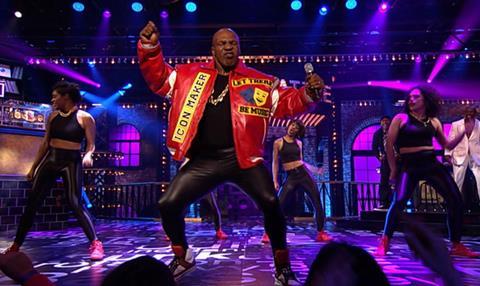 Viacom's US cable network Paramount is opening its doors to UK indies as it hunts for a spiritual successor to hit karaoke format Lip Sync Battle.
The channel is set to be rebranded from Spike to Paramount Network in January 2018 and will look to be a home for "premium" entertainment formats and high-end drama and comedy.
Paramount, which will be run by Kevin Kay, who previously oversaw Spike, is looking to order up to six non-scripted programmes and six to eight scripted comedies and dramas per year.
The channel, which will air Lip Sync Battle alongside non-scripted titles such as Ink Master and Bar Rescue, is already in talks over a number of UK formats.
Ben Frow, director of programmes at sister station Channel 5, recently travelled to New York to reveal the shows that work for the UK broadcaster.
"He came over with his team a couple of weeks ago and showed us everything they've got going on," said Kay.
"Out of that presentation, there were a couple of things we thought were perfect so we're now in the process of getting in touch with those UK producers and figuring out if there's US versions and how they may work."
Kay plans to visit the UK this summer after attending the Cannes Lions advertising event.
He said that he wanted formats on the same scale as Survivor and The Amazing Race.
"I think there's an opportunity in premium unscripted," he said.
"We are looking for a Lip Sync Battle companion that is a fun, talent-driven show with a different perspective, but haven't quite hit the one yet."
Paramount will be "light" in flavour compared to other US cable networks such as TNT, FX, which airs American Horror Story, and The Walking Dead broadcaster AMC.
"They're all great but some of those channels are known for their darkness, and it feels like there is an opportunity to tell big stories that don't necessarily have to be as dark.
"We've done a lot of research on what Paramount means to the audience, and there's no negativity associated with it," he added. "It's an international play – people look at it as a worldwide brand."
Original ambitions
Earlier this month, the network greenlit its first scripted original, Yellowstone, directed and written by Sicario screenwriter Taylor Sheridan.
The drama is produced by The Weinstein Company and exec produced by Sons of Anarchy exec producers John and Art Linson.
"Harvey [Weinstein] is a good friend, and has always been very generous to me in terms of bringing us things first," said Kay. "He said there was a great opportunity in Paramount Network because he knew that if he brought us our first one-hour drama, we could get behind it and market it, so he brought us the best thing he had."
The exec described Yellowstone as an "HBO-quality" show that could also compete with the likes of Netflix, adding, "That's what the audience expects in the golden age of television."
The network's other scripted offerings will include comedies Heathers and American Woman, which were previously in development at TV Land, as well as The Weinstein Company's Michael Shannon and Taylor Kitsch-starring miniseries Waco, which was initially greenlit for Spike.
In comedy, the network is currently re-developing a pilot based on feature film The First Wives Club.
The show, which was previously in the works at TV Land, is currently searching for new writers.
It is based on IP owned by sister studio Paramount Pictures.
Going forward, there will be more synergy between the network and the studio, now headed by former Fox Filmed Entertainment Group chief executive Jim Gianopulos.
"What we want to do is figure out a way to support upcoming franchise launches," said Kay. "Maybe in the future, there could be a Transformers prequel or a Mission Impossible spin-off series on Paramount Network. We are going back to the studio's library."
The channel is also moving into the high-end documentary genre. It recently ordered commissioned Rest in Power: The Trayvon Martin Story, a series produced by Jay-Z and The Weinstein Company.
"You don't get more premium than Jay-Z," said Kay.