AE Live has announced a long-term agreement to provide graphics for ITV's horse racing coverage.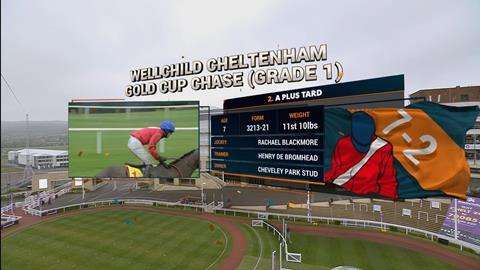 AE Live has announced a long-term deal with ITV to provide graphics services for its horse racing coverage.
This will mean AE's operational teams will have to cover 59 race meetings over 94 TX days in 2021, delivering a range of presentation and in-race graphics, including augmented reality (AR) content.
A number of new templates have been added to the existing graphics package, adding infobars, timelines, and promotional graphics as well as improving aesthetics.
Recent coverage has included the Cheltenham Festival, where AE was on site for all four days delivering AR content using Robycam for the first time.
AE project manager, Mark Crawley, said: "It's a real privilege to be part of such an exciting project for AE. It's always great collaborating with ITV Sport, and racing provides us with a fantastic opportunity to work together on developing new innovations and enhancements to complement the extensive graphics and stats in use already."
ITV Sport head of production operations, Ben Russell, added: "We are really pleased to have extended our relationship with AE Live to include horse racing as well as our other sports rights including football and rugby union.
"We were impressed with the innovative and creative ideas that they presented to ITV Sport and some of these really came to fruition at Cheltenham. We look forward to building upon them throughout the rest of this year and beyond."