Diving Plongeon Canada has been organising virtual meets powered by Dejero EnGo mobile transmitters and WayPoint receivers during the Covid-19 pandemic.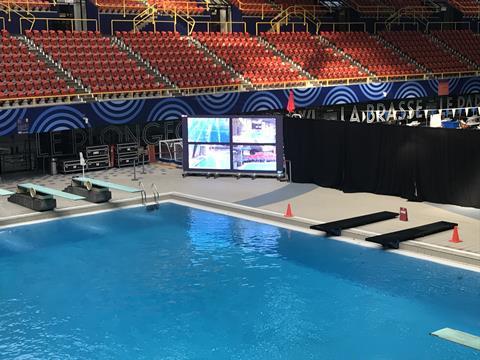 Diving Plongeon Canada (DPC) and Great Britain have taken part in the Virtual Nations Challenge, a remote international diving competition.
This follows the DPC organising virtual remote meets, to keep competitions running during the Covid-19 pandemic.
Using Dejero EnGo mobile transmitters and WayPoint receivers, provided by local systems integrator Integrated Sports Systems (ISS) Inc, the organisation has enabled athletes to compete from different locations simultaneously, while judges score dives from their homes in real-time.
Video solution u-Judge delivers low latency to keep the meets as close to normality as possible for the athletes involved, and was in use for the Virtual Nations Challenge on 1/2 April.
The intercontinental competition featured top divers from the two nations taking part from their own pools on each side of the Atlantic, in addition to Jamaican and South African divers training in the UK. Seven judges at home marked the dives, which took place at the London Olympic Pool, the Commonwealth Games Pool in Edinburgh, Scotland, and the Sports Centre at Montreal's Olympic Park in Canada.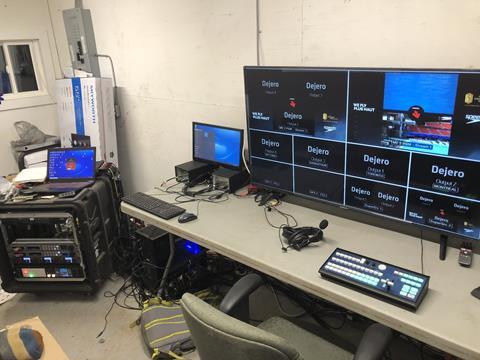 DPC also displayed the live production feeds from the EnGo mobile transmitters at each venue onto a large poolside video wall to immerse the athletes into the action, allowing the Canadian team to watch their competitors perform in real-time.
Streamed on Vimeo, available through the DPC website, and recorded as archive, the production studio in Thunder Bay centralised the live streams received from three Dejero EnGo mobile transmitters at the poolside locations and delivered them via a Dejero WayPoint receiver, with less than a one second delay, to judges. The broadcast is available to watch here.
Chief programmer and director at Integrated Sports, Michael Morris, said: "There is typically a 20 second delay during the regular streaming of live events, which ruins the experience of diving. Judges like to score a dive every minute, which is why we turned to Dejero to solve this latency problem by showing judges live video of dives via our u-Judge platform, with less than a second delay.
"Currently, we can stream from up to four different pools simultaneously, but with the help of Dejero, we have our eyes set on more feeds, with the potential to virtualise future competitions including more countries and more competitors, starting as early as May."