The title sequence, from Gotgotneed, includes intricate VFX work by Coffee & TV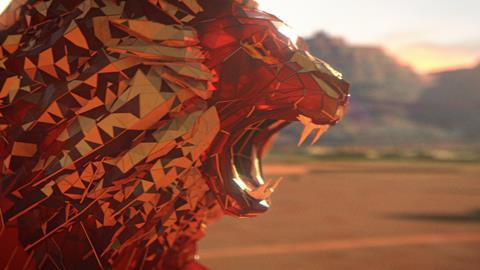 Creative production house Gotgotneed, Coffee & TV and Sky Creative Agency have collaborated to create the title sequence for Sky Sports' coverage of the Lions 2021 rugby tournament in South Africa.
Adam Wells, director at Gotgotneed spoke to Broadcast Sport about how the eye-catching title sequence was devised and created. He said: "Sky approached Gotgotneed to pitch for the titles in January, and we ended up putting in three quite different ideas. We evolved a concept of two nations meeting, represented through the animals associated with each country, which was originally our wildcard idea, and, happily, was the one Sky went for."
"We have a long-standing relationship with Sky Creative Agency, and so they felt confident giving us the creative freedom to run with it. We then spoke to two or three VFX companies and Coffee & TV's pitch was fantastic, full of great ideas."
Gotgotneed worked collaboratively with Coffee & TV on the project over a period of four months.
Wells explained: "The first month was R&D on animals, movements and landscapes to represent nations. We knew photo-real landscapes would not be achievable or even desirable as we wanted something that felt real as a surreal representation of the two landscapes.
"We took the animals on a surreal journey and then reined them back in, so they looked right and still recognisable as a lion and springbok. We needed to give the animals equal billing and we cut a sizzle reel from different car ads to make it seem like a bit of a car chase, to give it the energy and pace we wanted. The next step was to build an animatic we could use to pre-viz to and to help the music composer get an idea of the pace."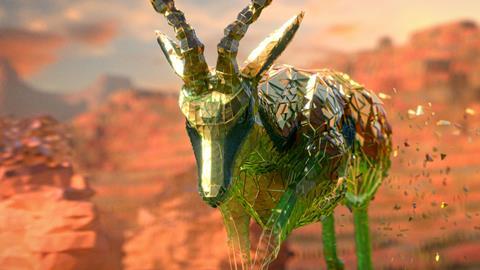 CREDITS
Creative Agency
Sky Creative Agency
Executive Creative Director
Ceri Sampson
Senior Producer
Nick Mason
Creative Director
Justin Bates
Head of Production
Sophie Brooks
Exec Producer
Sofie Leale
Design Director
Danny Yeomans
DOP
Chris Clarke
Director / Creative
Adam Wells - gotgotneed
Music
Neil Myers
Sound Effects
Arge @ ENVY
Coffee & TV Creative Director
Steve Waugh
CG Supervisor
Richard Coley
Lead Animator
Jonny Grew
2D Lead
Luke Todd
2D
Artur Margiv, Nick D'Aguiar, Ozgur Taparli, Pedram Razi
CG
Aaron Smith, Adam Lindsey, Amy Heyes, Ben Cantor, Ivan Xavier, James White, John-Paul Harney, Jon Foksett, Josh George, Rimelle Khayat
Grade
Katie Dymmock
Coffee & TV Producer
Gus Quirk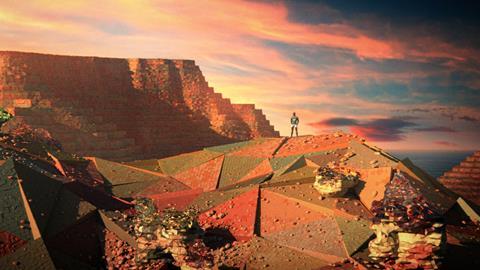 Sky Sports wanted the titles to be fairly gritty and aggressive from both a visual and music point of view. The lion naturally lends itself to this, but the springbok less so. "It has speed and agility but needed to look a bit more aggressive to match the lion, so we tried to make this work," says Wells.
Each of the animals appears as a gold framework containing many different shards of glass which join together to fill out the gold framework. The look of the glass shards is a key component to the overall aesthetic of the film. Wells said: "To get the look for the glass particles, we shared lots of imagery around, which Coffee & TV evolved to shape and make the animals. The creative director at Coffee & TV – Steve Waugh – is as fussy about everything as me. We shared imagery and discussed which elements would be best and why. We managed to agree a visual look quite early and then it was a case of finessing that.
The executive creative director on the project at Sky, Ceri Sampson told Broadcast Sport: "This was a true creative partnership and I'm absolutely delighted with the result. Is it the best Lions sequence we have ever made? Perhaps… but I'll leave that for others to judge. My ambition for the Lions Tour titles was big. I wanted to create not just a title sequence but a brand that ran through all our coverage on Sky Sports including everything from opening titles through to set design.
"I wanted it to be epic, bold and befitting such a wonderful world sporting event as a British Lions Tour. In previous tours we had always gone big on our creative and I threw down the gauntlet to the design teams pitching that I wanted this to be the best Lions sequence we had ever done – the bar was pretty high.
"We considered a large number of extremely high-quality creative pitches. A number of routes came in from Gotgotneed. To be honest, I was humbled by the quality and quantity of ideas within their pitch, and we could have made any one of a number of sequences. But I felt "the Duel' was the strongest piece of work and gave us the opportunity to create something special together."