It is opening a new Leeds office to work on the programming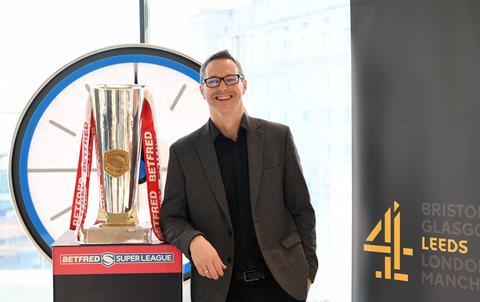 IMG has won the tender to produce Channel 4's Super League coverage.
The free-to-air broadcaster recently won the rights to broadcast ten live matches, including two end-of-year playoff games, plus highlights of the Grand Final for the next two seasons - the first time that the competition has been free-to-air in its 26-year history. Previously it has only been shown by Sky Sports.
IMG will produce the live coverage on site from the grounds, and the Grand Final highlights.
It is opening a new office in Leeds to work specifically on the Channel 4 live programming. The company's Leeds base will be in the offices of post-production company Sticks and Glass in the city centre and it is currently in the process of hiring creative, production management and technical support.
Channel 4 head of sport Pete Andrews, pictured above, said: "It was a very competitive tender process but IMG showed a vision that really stood out.

"And we were absolutely delighted when they revealed their plans to open a Leeds base. This chimes perfectly with Channel 4's ambition – to help boost the production industry in the Nations and Regions."
Barney Francis, executive vice president, head of global production at IMG, added: "This is a great opportunity for us and we are delighted to be working with Channel 4 on live coverage of Super League, one of the action-packed sports of the summer.

"We are excited to be opening a new base in Leeds - right in the heartland of the rugby league world - which will enable us to tap into the production talent in the area. Going forward, we can also see a number of long-term strategic advantages for IMG to have a base in the region."
Channel 4's first Super League broadcast will be on 12 February, when Leeds Rhinos hosts Warrington Wolves.