It has been appointed host broadcaster for the three-day UCI Women's WorldTour road race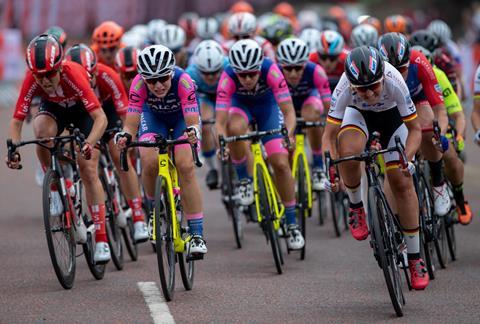 Whisper has been appointed the host broadcaster for the RideLondon Classique, a three-day UCI Women's WorldTour road race.
Taking place 27-29 May in London and Essex, the race will feature the world's top teams and riders - such as world champion Elisa Balsamo (Trek-Segafredo), reigning champion Lorena Wiebes and British champion Pfeiffer Georgi (both Team DSM). It's first edition was in 2013, before being added to the UCI tour in 2016. The last two events, in 2020 and 2021, were cancelled due to the pandemic.
In addition to the Classique, there are four mass-participation rides taking place. Whisper's coverage will feature these, with Sunday's RideLondon-Essex 100, 60 and 30 plus FreeCycle in amongst the racing action of the Classique.
Whisper will deliver highlights of Stages 1 and 2 to the BBC and RideLondon's worldwide broadcast partners. Then, on Sunday, Whisper will provide live coverage of the final stage, which will air on BBC Two at 3:30pm, as well as providing the feed to other international rights-holders. The final stage will take in many of London's iconic sights, including Trafalgar Square and the City of London.
Whisper will also be providing digital support for RideLondon, generating clips of the live race action for social channels.
The production team features programme editor Stuart Hutchison, who has directed both RideLondon and Tour of Britain, supported by Anne Somerset.
Mark Cole, Whisper MD, said: "The RideLondon Classique is a fantastic event which demonstrates what sport is all about: inclusivity, opportunity and encouragement, with the incredible chance to see the best in the world going head-to-head. The event is a great celebration and we are really excited to be able to communicate it to a worldwide audience."