Whisper has also made a double appointment to boost its sport production offering in Australasia ahead of the World Cup in New Zealand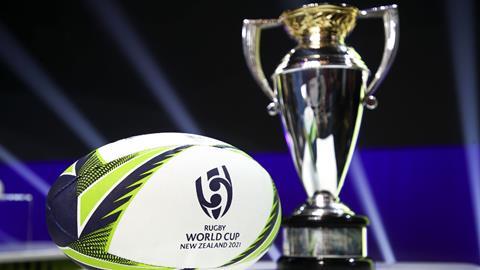 World Rugby has appointed Whisper as its key digital video and audio production producer for 2021.
In a year that includes the 2021 Rugby World Cup in New Zealand, Whisper will create content for World Rugby across its multi-platform channels, capturing stories around the world via its international network, supported by Sony Pictures Television.
This includes social videos, documentaries, audio content, graphics and infographics, as well as an enhanced visual look with Whisper Partner Chapter 3 Graphics for what will be the first women's Rugby World Cup held in the southern hemisphere.
World Rugby general manager, marketing and content, Joe Pecchia, said: "We are delighted to be welcoming Whisper to join the team at World Rugby in a new relationship where they will help take our fan led content to the next level."
Whisper managing director Mark Cole added: "It's great to have this opportunity to celebrate World Rugby and to capture the emotion that's generated by its heroes, their skills and a determination to win."
Whisper has produced the Women's Six Nations for the BBC and the 2019 Rugby World Cup for S4C in the past, and has now further strengthened its sport production offering in Australasia ahead of the World Cup with the addition of James Gemmell from Sky Sports UK and All Blacks rugby legend Sean Fitzpatrick.
Gemmell becomes executive lead Australasia, having presented rugby on Sky UK for over 12 years. He was also a producer and presented the 2019 Rugby World Cup for Spark Sport - who brought Whisper to New Zealand with a six-year contract to be production partner for its cricket coverage in the country.
Gemmell said: "What we watch – and how we watch it – is changing, and only the most agile and ambitious will keep pace. Whisper embody that ambition with their expansion into Australasia and, along with Sean, I look forward to making the Whisper name as synonymous with quality down under as it is here in the UK."
Meanwhile, Fitzpatrick, who captained the All Blacks 51 times and made 92 total appearances, joins The Whisper Group's Advisory Board. He is now chairman of the Laureus World Sports Academy, and a board member for both the Harlequins and Scarlets.
Fitzpatrick said: "Whisper's innovative, creative vision bring an exciting new edge to the way the stories of sport are told for broadcasters, rights holders, athletes and brands. I am delighted by their energy and looking forward to working alongside James to bring Whisper's winning formula to Australasia."
Whisper CEO Sunil Patel added: "Australasia's sporting heritage is world famous and includes many brilliant teams and sporting heroes – so it's an exciting region to be moving into. We're enjoying delivering sport and entertainment with Spark Sport and are keen to develop this further. Having both James and Sean as part of the Whisper team, with their incredible talent, knowledge and connections, is a huge benefit and will help us with our ambitious plans."