WEDNESDAY: England's semi-final defeat in the World Cup pulled in the biggest peak audience on record - overtaking the high of the Olympics 2012 closing ceremony.
World Cup: England v Croatia (ITV) 6.45pm-10.30pm
20m (73.3%)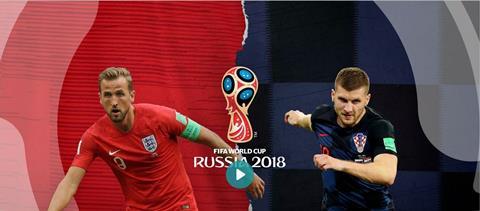 The 2-1 loss to Zlatko Dalic's side peaked with 26.6m (84%) at 9.30pm as the Croatians scored their winning goal in extra time.
The performance propelled the match ahead of BBC1's coverage of the London Olympics closing ceremony in Stratford, which reeled in a high of 26m (78.4%).
However, across its near four-hour runtime, the football could not match the 2012 event's average of 24.4m.
The semi-final was well ahead of the average of 15.8m who tuned in to BBC1 to watch the quarter-final victory against Sweden on Saturday. However that game, which got under way at 2.45pm, attracted in a larger share of 80.2%.
The semi-final was ITV's best performing game of the tournament, up on the peak audience of 24.4m (80.1%) who saw England triumph over Colombia in their first knockout game earlier this month.
ITV News, which followed the coverage was unable to capitalise on its stellar inheritance. It informed 2.4m (18.,4%) across the 30-minutes from 10.30pm and was defeated by BBC1's News at Ten bulletin which notched up 3.8m (20%).
Love Island, pushed back to 10pm to avoid clashing with the game, was unaffected by the event. It continued with a steady 2.5m (15.6%), according to Barb data provided by overnights.tv.