NAB 2016: The Canadian production switcher and graphics systems maker Ross Video has moved into studio cameras with the launch of a new device designed for green screen virtual reality production.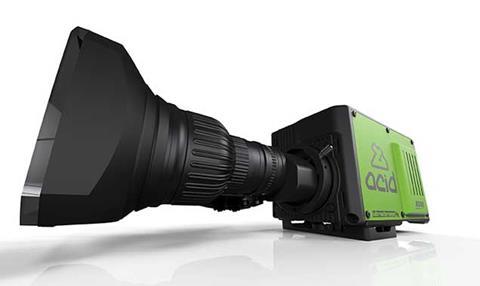 The Acid camera system (pictured) incorporates a new signal format that was developed by Ross to overcome the difficulties of creating good chroma keys.
The cameras output standard SMPTE 4:2:2 video signals for use in any production, but also offer a special 0:4:4 full bandwidth colour signal that is combined with the primary output within a new graphics systems called Carbonite UltrachromeHR.
Together the two systems are said to generate a full resolution 4:4:4 signal that helps to provide high-resolution key edges that are vital for green screen work.
The camera is available in two flavours: the Acid H200, which Ross says, "has the highest resolution and performance specification of any 1080p camera system from any manufacturer"; and cheaper version, the Acid Z50, that has been created for corporate productions.
Switcher updates
Also at NAB, Ross Video has announced new additions to its switcher range.
The Carbonite Black Solo is a compact vision mixer with nine inputs and six outputs that has been designed for small studios, flight packs or as a back-up switcher.
The Solo has a single ME with four keyers, a transition keyer for DVE and Media wipes, and two UltraChrome chroma keyers. It has six SD/HD-SDI and three HDMI inputs plus six floating frame synchronisers with format converters that can be assigned to any input. For outputs there are five SDI and one HDMI.
The Solo also features a fully configurable MultiViewer and ships with an XPression LiveCG license for graphics production.
The Carbonite Black Plus is a souped up version of the Carbonite Black that includes 36 inputs that each have frame synchronizers, format converters, colour correction and Proc amps. It has five multiviewers with up to 16 configurable windows each.
Ross is also previewing version 4.0 software for its Acuity production switcher. New features include Split ME, DVE Warps, Lighting Engine, and support for the new MultiProcessing Input card option.
Graphics debuts
On the graphics systems side, Ross is debuting XPression Tessera, a multi-display real-time graphics designer and controller for Sport Venues and Studio Video Walls. This system enables users to link together multiple XPression engines to create a matrix of channels across large or irregularly assembled display panels.
Ross Video director of marketing product management for XPression Brian Olson said: "The ability to scale real-time graphic outputs to virtually any size or number of displays is a game changer. We're no longer limited by the horsepower of a single graphics engine. Users can simply add more XPressions to scale up to larger and larger canvases."
Another product being given its debut is the XPression Quad which supports up to four channels of HD/SD or Quad link 4K outputs with key, and is user configurable for any combination of inputs and outputs.
XPression Quad can run two channels of insert graphics, a score bug, and baseband video preview for live sports on a single system. It is available either with a full software interface for graphics creation or as a headless graphics engine.
In addition, during an update on its financial performance, Ross chief executive David Ross revealed that the company has seen 24 years of consecutive growth, with an increase of 21% last year and an average of 17% over the full period. 2016 is up 24% so far, he added.
Ross Video was founded in 1974.
[Stand]
N3705