From demanding clients to tech innovation, the bosses of the firms shortlisted for this year's Broadcast Awards discuss the challenges and opportunities in the sector.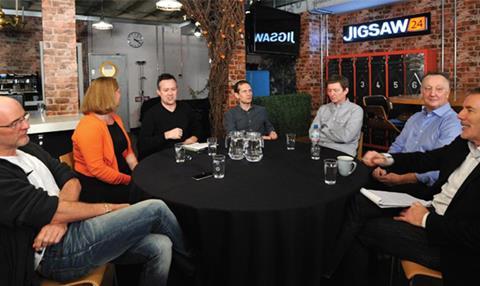 Broadcast gathered the bosses of the six facilities shortlisted in the Broadcast Awards' Best Post-Production House category for a discussion about the facilities sector, including the challenges involved in running a successful post firm and where the opportunities lie in 2016.
What do TV production companies want from post facilities in 2016?
Johnny Whitehead Our clients expect increased flexibility. With a traditional tape-based workflow, there was a more structured schedule. But viewing habits have changed and that has altered the way some execs view their projects; they want to maintain the option of making last-minute revisions. We are moving closer to the Netflix-style bulk delivery model.
Dave Cadle It's very 'now'. Jobs don't always start in nine weeks' time – we might get a phone call or email to say we want to come in on Tuesday, or we're coming in now. We're investing in more offline rooms. We need them because clients might need 10 rooms quickly. They don't want to hang around, and producers want to be able to work on multiple jobs.
Leo Casserley Clients are looking for guidance and expertise. Rather than turn up at the last minute, they should be engaging a lot earlier, because there are so many ways to attack a project and shoot it. When I started, it was all 16mm and 35mm fi lm and was very prescriptive, but now that there are so many ways to cut the cake, they should be engaging sooner.
JW It's a challenge because it can make resource management difficult. When you add things like UHD, storage requirements go up massively if you are trying to keep lots of shows on the go. So from a hardware and infrastructure point of view, it's a big ask. But it's a change we all have to get on board with.
What has happened to the rates paid by production companies?
John Rogerson It's not the bun fight it was last year; there is enough work right now. There are two reasons for cutting rates: if a facility is desperate for the work, or it's a strategic discount – say, you love the job or believe it would be great for the facility.
JW It's not a race to the bottom at the moment.
Matt Adams For new services, it is about trying to get a client to understand that there is a cost and value associated with providing a better workflow. There is often an argument about things like Aspera transfers – people think they should be free because they have broadband at home, but they are not paying six figures for a 10Gb fibre connection into a facility.
JR I've been surprised at how quick it has been to educate clients. Every client is different, but I expected it to be much more of a fight to get people to pay for new services and technology.
Julie Parmenter There is a fairly consistent message from post facilities about having to charge for certain things, like DPP deliverables. When the market is buoyant, we can all afford to be sensible. When the market is struggling and there is a lull, that is when a few facilities will struggle – it's different facilities at different times. That's also when there may be highly competitive deals – as a loss leader to fill the gaps in a facility's workload.
What is the best way to grow a post-production facility?
JR You won't see much agreement around this table.
DC I don't think Envy will ever acquire. It's good for a company like Technicolor to buy the Mill, but it's not in our makeup. We look at ourselves every three months to see what is good and bad, but we can't make a three- year plan. When we run out of space, we jump to another building, which brings its own madness in terms of what we acquire, and we try to condense that process to four months. If it takes six or eight, you just see money flying out. We're going through that expansion process now in time for September.
JP Having a strong mix of genres helps with peaks and troughs. We wanted to grow drama sound, but it is not just about buying a building and putting in sound shells. You have to acquire the talent as well. When we bought Hackenbacker from Halo last year, our view was that we were acquiring a talent base and a fantastic facility.
We looked at Manchester and decided there were enough players in the region, so we formed an alliance with Flix. It's not commercial or financial – if clients are shooting north of London and need to offline or sound edit, then it's good to have a base or someone to recommend them to work with, and hopefully vice versa.
LC We have been doing a job for BBC Sport. It's not traditionally a department we have been involved with, but it is based at MediaCityUK, so we have been able to facilitate that job because the editor is in Oxford, the storage is at Molinare and the execs are in our edit suites.
I don't want to sound like a northerner with a chip on my shoulder, but there are a lot of drama shoots around the north of England, but the lucrative part of the post all comes back to London. You have to work with it – you can't fight it.
We can provide that front-end solution, such as the ingest, DITs [digital image technicians] and the offlines, and accept that the rest heads back to London, with an efficient pipeline that works for both.
JR In my experience, partnerships are very difficult in practice; everyone has their own agenda and you can end up not getting a lot done. That's not to say it can't be done, but it's not something I would spend a lot of time on.
We have used what resources we have to grow, so we have had to be opportunistic and look at being the hermit crabs of post-production. Our main site used to be Pepper Post. There are advantages to that as others might spend a fortune on a facility, but there are a great deal of disadvantages as well.
What Dave does with Envy is very 'Envy', but when you move into someone else's facility, it is not very 'you'. The economics of post mean you have to get it up and running very quickly, so often the wallpaper that was there stays, you get used to it – and, before you know it, five years has passed.
Where do the opportunities for post lie in 2016?
JW I'd expect to see funding from TV tax credits continue to be a driver. We've probably been feeling the benefit over the past year in high-end drama. Also, we have seen some evidence of higher episode counts and UHD – we are working on some shows now, with more in the pipeline.
DC It seems busier moving forward. We don't benefit from the tax breaks because of the genres we work in, but there seems to be more work – it feels already like it would usually in March or April.
LC Tax breaks have had a massive impact on drama and high-end features, but also a big effect on animation, in only 18 months. It's still not as big as the Irish tax break, and as Ireland is an English-speaking country, that presents a competitive problem. But tax breaks would be a big driver for us and Manchester is a hotbed of animation, so we have the skills base. Also, being able to offer more than traditional post in terms of VFX and animation is a big one for us.
JR The reason we are all sitting here with smiles on our faces is that we are all busy, and the reason for that is the drama facilities are full of drama. Those who work on a particular genre are full and they're not scrapping for other types of shows.
Investing in IP is also important. I know there can be complications when post gets involved in production, but not if it's done properly. Everyone underestimates the impact that The Farm opening 35,000 sq ft of space will have. I think it will be a big disruptor, especially in drama and broadcast TV, so it will be interesting to see what happens there. Postproduction is as much a war zone as ever, but it's fun.
JP There's the rollout of 4K, and Netflix is commissioning a significant amount of work, so there is opportunity there. In the second half of last year, we started to see the impact of the government withdrawing the minimum spend threshold on high-end TV in March, so in 2016 we will see the full impact. For us, documentary remains a booming market, both in theatrical and TV. But there aren't any tax credits, so we will do some petitioning on that.
MA For us, it is tax breaks for high-end broadcast and theatrical. And working out the best ways to make a margin and monetise new technology – so lots of cloud-based systems for dailies, for example.
We have already made investments in HDR and UHD, but there will still be some setting of rates versus expectations for those sorts of services. The type of shows demanding those, from the likes of Netflix and Amazon, have the budgets and the series are not six parts any more, they are more like 13. The budgets are better, so I don't think we will struggle to get a fair return on investment for the expectation these clients have.
See next week's issue of Broadcast to find out the winner of Broadcast's Best Post- Production House 2016