Sky has unveiled a new premium set-top box that will support ultra high-definition channels and make it easier for subscribers to access content on the move.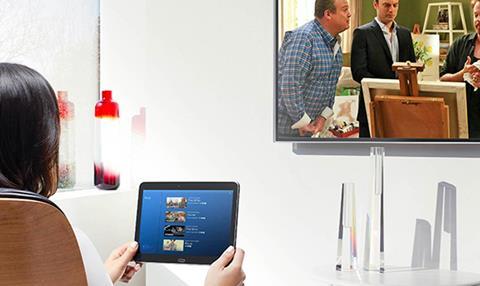 SkyQ will launch at the start of 2016 in a move that chief executive Jeremy Darroch called the "biggest reimagining" of Sky's products in the company's history.
The service will allow viewers to watch live TV, along with on-demand and recorded programming stored on the set-top box, on other TV sets or tablets. It will also support 'pause and play' functionality across multiple devices, including TVs, via a complementary SkyQ Mini set-top box.
SkyQ, which is half the size of the existing Sky+ set-top box, will also enable subscribers to record four shows simultaneously while watching another channel via a new 2TB hard-drive.
It will also support a series of on-demand online channels, accessed via the EPG, after striking deals with brands including Vanity Fair, Wired, GQ and Red Bull as well as YouTube and Vevo. Subscription VoD services Amazon Prime Instant Video and Netflix have not been made available.
Following launch, Sky will rollout features including a mobile app and voice search function. It will also launch a raft of ultra HD channels covering sports, movies and entertainment.
SkyQ will sit alongside Sky+ HD and Now TV, with managing director of sales and marketing Stephen van Rooyen claiming that the service would allow it to "super-serve" its "media-centric" customers.
The company did not reveal pricing but it is expected to be more expensive than its existing offerings.
"We wanted to re-imagine TV so that it's flexible and seamless across different screens and to put a huge choice of entertainment at their fingertips," said Darroch. "We think customers are going to love Sky Q and the great news is that it will get even better with much more to come in the future."