BBC director of sport and fellow panellists discuss how to maintain the momentum of the recent World Cup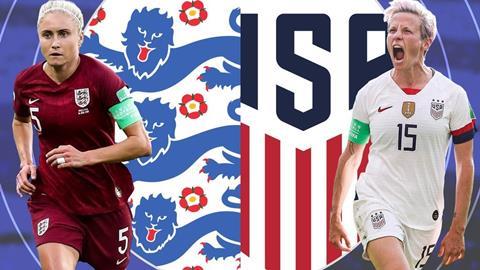 The BBC's director of sport has pledged to chart the 'onward and upward trajectory' of women's sport following the recent World Cup.
In an Edinburgh TV Festival panel looking at ways to maintain momentum following the BBC's multi-channel coverage, Barbara Slater highlighted that 28m people watched or experienced this year's World Cup and 48% of viewers had never watched women's sport before.
Slater said the 2022 Women's Euros, which will take place in England, would be a decisive moment. "Even though things may settle down, there's an onward and upward trajectory," she said.
She also noted that the smart move for women's sport is to find a balance between transmitting on free-to-air and pay TV channels.
Jo Tongue, chief executive of sports management agency Tongue Tied, argued that unless "we make women players very visible every week", the momentum from the 2019 Women's World Cup and the professionalisation of the women's game will wane.
Paralympic long jumper Stefanie Reid echoed her calls for greater visibility, stating that people "can't love what they can't see."
Female presenters
The panel also explored the world of women pundits and presenters.
"We are leading our audience," said Slater "We need to tap into the collective mood that is ready to see more women in senior [on-screen] roles."
Tongue praised the fact that female presenters have become almost a given. Presenter Gabby Logan caveated this with her own experience with abuse on social media.
Cricketer and pundit Ebony Rainford-Brent mentioned she needed to "build confidence" in herself and protect against the abuse she had received after commenting on men's cricket.
Twitter UK managing director Dara Nasr expressed his willingness to work with organisations and women athletes to tackle hate speech.
"We support free speech, but we massively condemn hateful comments," he said.
"We have to accept that it's a societal issue and we are working with many different organisations like [Football equality and inclusion campaign] Kick it Out to come to a solution."
Nasr mentioned Twitter's role in supporting women's football in attempt to redress the disparity in coverage, in which women's sports account for 4%.
Twitter worked closely with the Lionesses, creating emojis, promoting highlights and taking over a billboard in Piccadilly Circus, he said.
Asked what she would like to see from women sports coverage, Rainford-Brent said she wants more "mini-documentaries" on sports stars, while Reid would like to see something targeted at young girls.
"No one can ever say nobody is interested in women's sport again," said Slater.