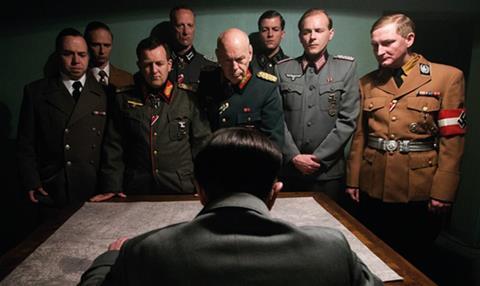 US cable network Smithsonian Channel has urged British indies to help it find new ways to approach history and wildlife documentaries.
Executive vice-president of programming and production David Royle told Broadcast he is looking for producers to update black-and-white archive documentaries and use video-game techniques to help turbocharge the 100 hours of original content that the channel produces and co-produces each year.
The broadcaster, which is a joint venture between museum group Smithsonian Institute and CBS's Showtime Networks, recently found success with six-part World War II documentary Apocalypse, produced by French indie CC&C, and Blakeway's Fall Of Japan: In Color.
The hour-long film followed British journalist William Courtenay as he was embedded with American troops in the Pacific theatre of operations during World War II.
Both docs show scenes where colour has been injected into black-and-white footage of the war and Royle said that he wants more producers to experiment with this technique.
"In the past, history has skewed slightly older and the challenge is to bring in younger audiences," he said. "We found black-and-white footage was very distancing to younger audiences – it feels very old to them. There's been an interesting trend in the past few years towards colourisation and we're now placing a large emphasis on colouring archive programmes."
The broadcaster also wants more shows in the same vein as WWII's Most Daring Raids, produced by Impossible Factual boss Jonathan Drake's Raid Productions, which staged reconstructions of commando raids using techniques more traditionally associated with video games such as Grand Theft Auto.
Royle, who is heading to the Wildscreen event in Bristol next week, said he is also keen to attract more wildlife shows as the broadcaster dedicates one night of the week to natural history programming.
Smithsonian commissions more UK indies than almost any other US network. It has worked with large firms including Nutopia and Blink Films on My Million Dollar Invention and The True Story Series, as well as smaller indies including Northern Ireland's 360Production, which made six-part series Survivor, and Finestripe Productions, which produced The Day Hitler Died.
"We try really hard to be open to new companies and to individual producers," Royle said. "We work hard not to be a closed shop. We want to be a place where people can bring their best ideas and find new projects. We pride ourselves on not just going back to the large companies."
It also regularly co-produces with the BBC, ITV, Channel 5 and UKTV.
"We could never have launched when we did without fully embracing the co-production market. For us, it's not an afterthought, it's baked into who we are as a channel. We co-produce around 70 hours a year," he added.
Smithsonian grew its average audience by 17% in 2015, ahead of Nat Geo, which grew by 1%,
Discovery, which grew by 10%, and History, which fell 18%, according to Nielsen figures.
Royle attributed this to a drive for more "authentic" programming.
"A lot of the other large US nonfiction channels are talking about bringing authenticity back, but that's a very tough thing to do when you've built your audience around character-led reality programming. What's great for us is we haven't gone down that route," he said.
SMITHSONIAN EARTH
The broadcaster is also moving into the digital space with subscription video-on-demand service Smithsonian Earth.
The service, which costs $3.99 (£3) per month, airs a raft of docs, such as Jago: A Life Underwater, directed by British film-maker James Reed, as well as shorts. "It's wonderfully liberating to no longer have to worry about programme length," Royle said.
It is also set to roll out its linear channel around the world, having signed deals in Canada and Singapore.
"Increasingly, pay-TV operators are coming to us and asking if we're interested in launching the channel in their country, and we will look at every single instance very carefully. It's the natural next step for us," he added.