Ampere Analysis study values global market at $38bn
Sports rights account for over one quarter of all TV content spend worldwide, according to new research from Ampere Analysis.
In 2018, 26% of global content spend was focused on sports rights acquisition at a value of nearly $38bn. This figure has almost doubled from $20bn in 2012.
Despite the size of the sports rights market, and ongoing pressures from online video platforms, Ampere Analysis says there is still room for growth in the sector not just from emerging markets, but also within established and developed territories like the EU big five and the US.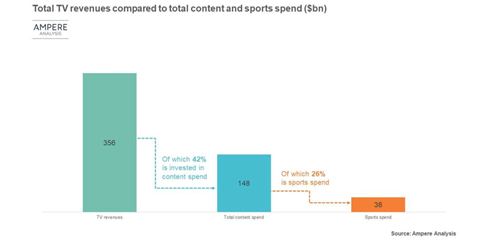 The percentage spend on sports rights was higher in the EU than in the US. In 2018, broadcasters and pay TV operators in the EU big five markets (UK, France, Germany, Italy, Spain) devoted an average of 33% of content spending to sport, while in the US, the figure was 26%.
In Europe, pay TV operators such as Sky and Telefonica are the biggest drivers of investment in sports rights, accounting for over 60% of expenditure. Ampere said that new OTT players, although gaining ground, are still minority players in terms over their overall spend.
Public broadcasters invest an average of 10% of their content budgets on sports rights, while commercial broadcasters such as ITV, RTL and TF1 invest 25%.
The strong domestic competitions such as Ligue 1, Bundesliga and La Liga in the EU big five and the NFL, NBA, and MLB in the US are the main drivers of the high sports spend values. But in major European markets, although these competitions account for over half of sports rights spend, Ampere's research suggests secondary competitions have also benefited from the sector's growth. Smaller competitions have maintained a steady share of 44% of sports rights expenditure – even as the industry doubled in value.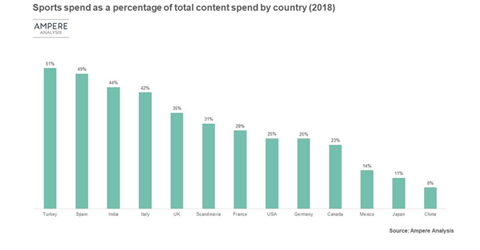 Despite having a smaller population and fewer households than Western Europe, the TV industry in the US is much larger in terms of revenues, and this is reflected in sports spend. US groups spend $19bn per year on sports rights – and this is set to increase as the major competitions enter new rights cycles, said Ampere.
However, a smaller proportion of TV revenue in the US is currently devoted to sports rights than in the major Western European markets. 11% of US TV industry turnover ends up with sports rights bodies, compared with an average of 17% in major Western European markets.
This is likely to change as the new rights cycles for NFL, MLB and later the NBA, begin to kick in. Ampere Analysis expects the top leagues to be able to generate a further $4bn per year in rights revenues by the end of the next six years.
Alexios Dimitropoulos, senior analyst at Ampere Analysis said: "Even as major leagues turn their attention to international markets outside Western Europe and the US, our analysis shows that there is still opportunity left for many of the major competitions in their domestic markets.
"Although there are significant competitive pressures on TV revenues due to the rise of new online competitors, the impending direct-to-consumer fragmentation of the market may also open up opportunities for sports rights bodies – who will increasingly hold some of the few premium rights that money can still buy."