Sports ad tech company names Ross Hair as managing director and Steve Plunkett as chief product officer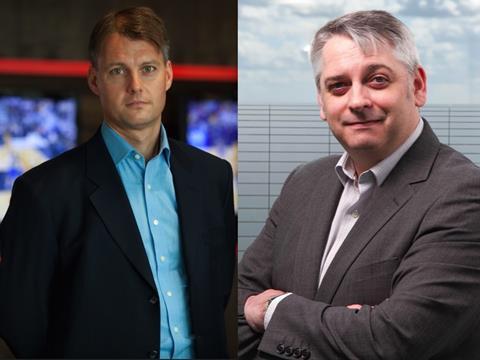 Supponor, the sports virtual advertising technology firm, has made two senior hires from the TV industry.
Ross Hair (above left) joins Supponor as managing director. Most recently, Hair was SVP, commercial EMEA at Discovery Communications and has held roles as managing director of ESPN EMEA, and EVP EMEA for Sony Pictures Television International.
Meanwhile, Steve Plunkett joins as chief product officer from Ericsson's Broadcast & Media Services business unit where he was chief technology officer. Plunkett will be responsible for the product and technology functions within Supponor. Before joining Ericsson, Plunkett was chief technology officer at Red Bee Media and chief architect at Motorola.
Both roles are newly created at Supponor, which is based in London and Helsinki. Its technology is being increasingly used in live sports, and automatically customises advertising on boards for different international markets – potentially opening up new revenue streams for clubs looking to partner with companies in different regions.
German club Borussia Dortmund is using Supponor's virtual advertising technology at its home matches during the 2018/19 Bundesliga season.
Supponor CEO James B Gambrel said: "These senior appointments are a testament to what we have already achieved and support our existing team as we continue to develop ever more capable and efficient technologies as we scale our business to meet the rapidly growing demands of rights holders, broadcasters and sponsors."
Hair commented: "Supponor's real-time, streamlined solutions are creating new ways to commercialise live sport, so I look forward to working with key rights holders and new digital platforms to demonstrate the advances being made - and the opportunities being created".