Available on the BT Sport app, it includes features such as shot tracers lined with blazes of fire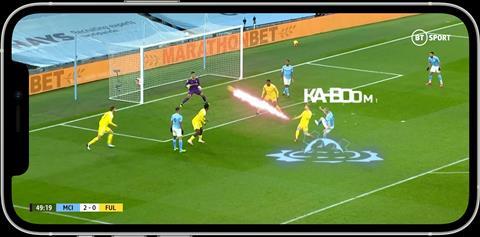 BT Sport has launched the Hype broadcast experience on its app.
The feature aims for a 'youthful' and 'entertaining' broadcast experience, and includes action-themed on-screen descriptions for key plays, shot tracers lined with graphics such as blazes of fire, player runs augmented with smoke trails, and larger-than-life on-pitch graphics to denote shot speeds.
In addition, the app's Manager Mode broadcasting experience has been updated. It now has an updated mini map showing both teams' real-time formations, key data such as the location of key touches in the opponent's half, and teams' time spent in the opposing team's half. Player speed data will be also visible for key players involved in a phase of play.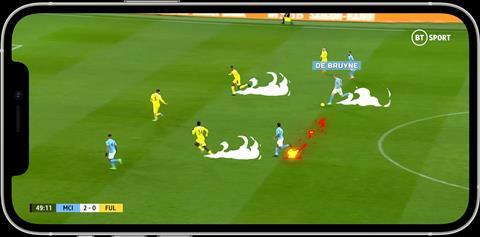 Both features will be available for the broadcaster's Saturday lunchtime Premier League games, as well as select Champions League and Europa League matches.
The timeline feature has also been added to TVs, consoles, and smart TVs, having formerly only been available on phones and tablets. It gives viewers access to an interactive timeline for each match to keep abreast of key moments and incidents in up to 4K HDR quality.
Jamie Hindhaugh, chief operating officer at BT Sport, said: "Hype Mode is a first of its kind innovation in the UK around live football broadcast that will provide a new viewing experience for children and families, while maintaining the integrity of the competitions we cover.
"Meanwhile, customers who have enjoyed our award-winning enhanced player on small screens can now enjoy a completely new viewing experience on large screens too, giving them a new way of viewing sport on TV. Today's launches are the latest to come from BT Sport Innovates, our new home of industry-leading innovation."