The companies are enabling sports fans in Japan to 'send' cheers and applause from their home to the stadium during live games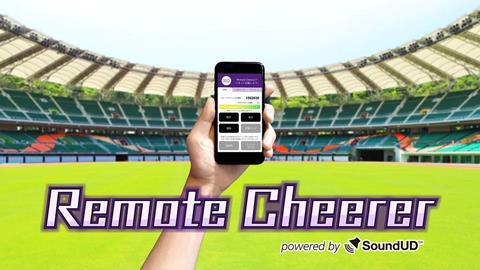 DAZN is working with Yamaha in Japan on a remote cheering application, which enables sports fans who aren't able to attend stadiums to remotely cheer on their team.
With the 'Remote Cheerer powered by SoundUD' app, fans use their smartphone to send cheers and applause to the stadium while watching sports broadcasts at home.
The cheers and applause from the app are broadcast live to the stadium through speakers around the edge of the pitch (see below).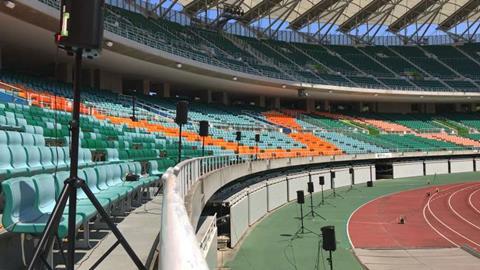 The app was originally released as a beta version in May last year, and has been used in around 500 soccer, baseball, and basketball games.
A new 'talk room' feature was added in February this year from where fans can watch the game while listening to and interacting with other fans through live commentary, chats and other audio talk.
DAZN and Yamaha have teamed up on a 'For The Fans Project', which is built around the talk room functionality. Martyn Jones, executive vice president, DAZN Japan, explains: "We believe this is a great development which will make [the excitement of sport] more available to a wider range of people, not just those affected by the coronavirus outbreak, but those who may have other reasons not to be able to go to the stadium easily. DAZN values diversity, equity an inclusion, and we hope that this project will bring the joy and excitement of sport closer to as many people as possible."
Shinobu Kawase, managing executive officer, Yamaha Corporation, adds: "It's great to be able to work with DAZN, which has created a world where people can watch a variety of sports anytime, anywhere, and we hope that this project will encourage more people to use Remote Cheerer to watch sports broadcasts. Through this project, we hope to deliver the power and excitement of sports to as many people as possible and contribute to the further development of the sports industry."
Yuki Seto, Remote Cheerer general producer, Yamaha Corporation, said: "There are many people in the world who cannot go to stadiums despite wanting to, such as children who are hospitalised due to injuries or illnesses, people who are busy with childcare or work, people with physical disabilities and people supporting from overseas or distant places. We want to provide a place where such people can send their cheers directly to the players and cheer together from home."