Extreme E had signed a deal to boost its exposure on the social media platform.
Extreme E has revealed that it drew 18.5 million TikTok views with its inaugural Desert X Prix.
Prior to the debut weekend in AlUla, Saudi Arabia, the electric car racing series agreed a deal with the social media platform to bolster its presence, and signed up Little Dot Studios to create its content.
As well as the 18.5 million views of content created by Little Dot, 17.2 million individual people saw #DesertXPrix videos across the weekend. 60,000 new fans also followed the Extreme E account. #XECountdown also saw 52.1 million views, after it was launched by team owner and driver Jenson Button.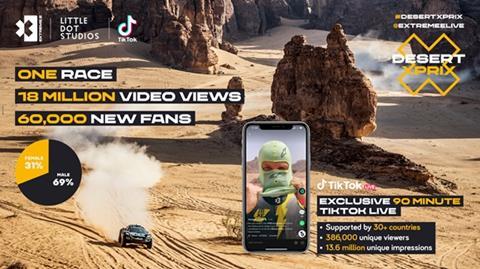 Little Dot and Extreme E's coverage on TikTok included a 90 minute production showing behind-the-scenes content on 3 April, which 386,000 people tuned into. One of the most popular videos was of The Drop, a 100 metre section of the course with a 45° descent, which 3.8 million people took a look at.
Chief marketing officer at Extreme E, Ali Russell, said: "As part of the championship's mission to keep carbon emissions to a minimum we don't have spectators on site, and if we did, we would never reach this level of engagement purely from attendees. It just goes to show how important our digital offering is."