More channels, cameras, and punditry have been added to its broadcasts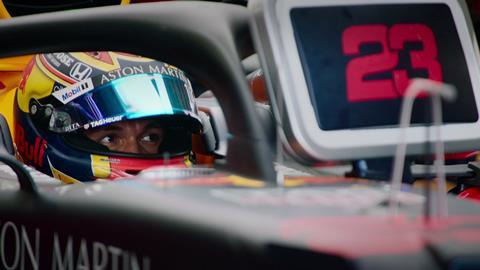 The F1 season has been slightly predictable at the front of the pack this season, with Red Bull leading the way.
However, away from the racing, Sky Sports has been less predictable, bringing in new innovations and more access than previous seasons.
Key to this change has been the new access to on-board cameras and microphones, with F1 allowing broadcasters greater access than in previous years. In the past, broadcasters would only be able to see and hear nine lines from the on-board action, which was edited and sent out by F1 itself – and could switch from driver to driver without the broadcaster's input.
However, from this season, Sky Sports now has access to all 20 cars, which head of F1 Billy McGinty explained: "In the race, it's an editorial game changer. The team at Sky listening in and adding to coverage with messages that aren't on the world feed."
However, with great access comes great responsibility – F1 teams are unlikely to want all of their strategies allowed out for anyone to see. McGinty said: "We have to be responsible. We don't want to compromise our relationships with F1 or the teams," adding, "We have a good team of producers who know what crosses the line and what doesn't."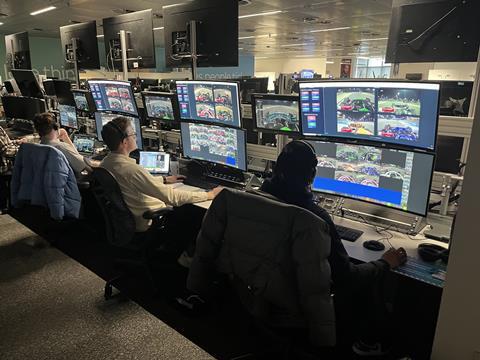 New pundit Bernie Collins has been brought on board to help with this, analysing the team radios both for fans at home and behind-the-scenes for production.
McGinty continued: "There's some stuff we could release but it wouldn't be a good move – you might see it on Drive To Survive in a year!"
Drive To Survive, the popular behind-the-scenes docuseries produced by Box To Box for Netflix, has driven a wave of new fans to the sport, and McGinty believes this extra access in live races is what they will want. "New audiences have been attracted by the access from clips in Drive To Survive etc. We can now offer this within minutes of the race finishing."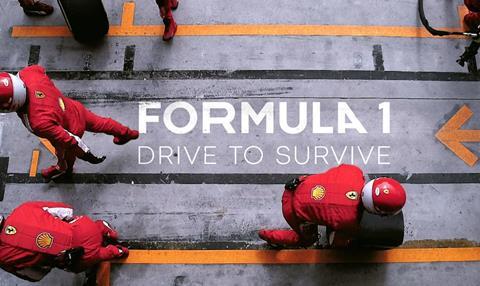 He added on the show: "We like to tell the human side as well as the technical and sporting side, but we are grateful for its focus on the human stories."
One addition to Sky Sports' F1 coverage this season has been the Battle Channel – where this new on-board access is used to bring viewers a complete focus on one battle between drivers further down the pack, chosen by a dedicated assistant producer. McGinty thinks of it "as great additive content for use in a companion app, or on screen."
This, and other new channels, have been enabled thanks to Sky's move from hardware encoding to the cloud, which, according to director of group production engineering Kevin McCue, gives them, "Unlimited scale. We can spin up channels quickly," and then get rid of them or change them to be used for other content.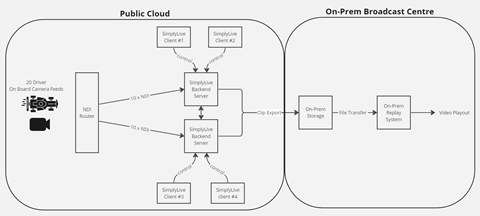 There is also a virtual control room, and having everything in the cloud has benefits outside of content – for example with environmental factors. Sky studio technical manager Michael Lethem noted that, "the amount of hardware we're decommissioning to replace with this is ridiculous. We still know there are a carbon costs but it is a cost for just the hours we are in production. Removing the hardware in our equipment rooms is a saving in aircon used and power consumption as we do not have equipment running 24/7."
He added that in the future, "More sports will pick up this tech and use it. For example, the US Open could have all courts showing with an individual encoder for each."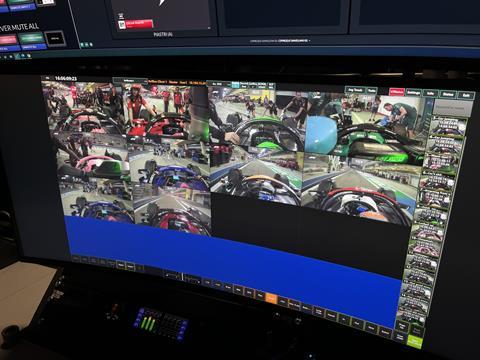 The team acquires the content from cloud providers before processing it in Sky's cloud production environment. This includes using video replay servers in the cloud to record and clip the 20 onboard cameras so production staff can then send relevant material to the gallery server in Osterley for integration to the program.
Alongside this workflow graphics are added and the additional cameras distributed for customers to follow a specific driver, as well as into a standalone software system to produce the battle channel.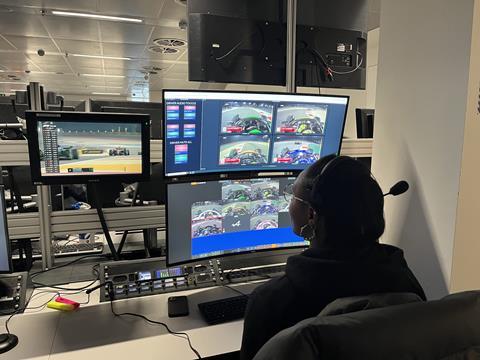 There will also be further improvements for F1 in the future, and McGinty revealed that data and visualisations are next: "Next up – more data and data vis – simplifying the sometimes esoteric numbers you see on screen and making them more appealing."
However, once again Sky Sports will have to make sure it knows where the line is – McGinty noted: "Sometimes an analyst will see something that the teams won't, and I think they might be worried about that."