Jamie Hindhaugh and Matt Stagg reveal their ambitions for the Innovate 21 competition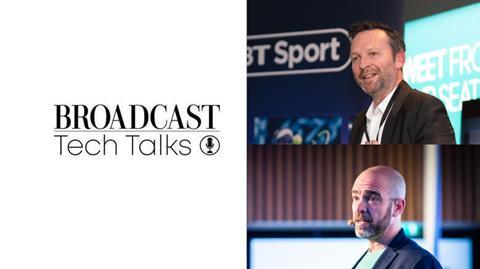 BT Sport COO, Jamie Hindhaugh and BT Sport director of mobile strategy, Matt Stagg talk to Broadcast Sport editor Jake Bickerton about the broadcaster's Innovate 21 competition.
Innovate 21 is the latest in a series of large-scale competitions run by BT Sport seeking ideas for forward-thinking new sports broadcast experiences.
The previous incarnations of Innovate have resulted in BT Sport teaming up with two products – Sceenic (which won the 2018 BT Infinity Lab competition), and Seenit (the winner of the 2016 BT Infinity Lab competition).
Sceenic has worked with BT Sport to support last year's launch of Watch Together on the BT Sport App, and Seenit has enabled fans to send in short video reports and comments from stadia around the country as part of BT Sport's Premier League Tonight show.
Innovate 21 is looking for entrepreneurs, creatives and start-ups to pitch products and services that will play a significant role in BT Sport's broadcasts and productions.
To find out more about Innovate 21 and to enter the competition, head over to www.bt.com/innovate21