As sport begins to return to normality, HDR is enjoying a resurgence. AJA's Tim Walker discusses how the technology has developed in the past year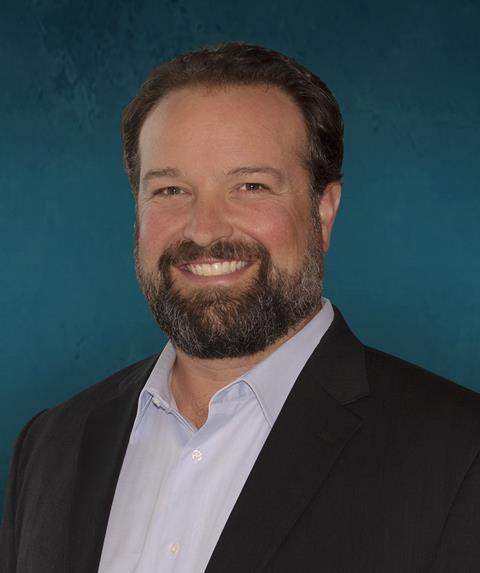 There's nothing sweeter than the sound of a cheering crowd as fans return to sports arenas more than a year after the start of the pandemic. As venue owners and production professionals regain a sense of normality, their mission remains the same: deliver the highest quality production value possible for fans.
As interest in high dynamic range (HDR) resurges, AJA senior product manager Tim Walker (pictured) talks about the trend, as well as AJA's new v4.1 firmware for the FS-HDR real-time HDR/WCG converter with Colorfront Engine video processing.
How has sports production evolved in the past year?
In early 2020, sporting venues closed their doors, leaving leagues scrambling to work out how to safely resume matches during a pandemic. At the same time, production teams sought new ways to bring content to audiences using distributed workflows.
The use of HDR production in live sports slowed during this time, but it is quickly gaining steam as vaccines roll out, stadiums welcome back fans (albeit with capacity limitations) and broadcasters pivot from trying to "just get something to air". Furthermore, broadcasters and OTT providers are gearing up to deliver UltraHD HDR coverage of the Olympic Games in Tokyo this summer.
One interesting development in the past year is a more varied approach to Look Up Tables (LUTs). While licensable BBC HLG LUTs remain popular in live production, there is a desire to provide a broader range of standardisation in media exchange, with licence-free LUTs that ensure a consistent content look from production through distribution.
Developed by NBC Universal Media, in collaboration with Cromorama and input from other industry organisations, NBCU LUTs are now freely available. These LUTs include SDR, HLG and PQ transforms that maximise the dynamic range and colour volume in HDR without compromising SDR broadcasts, and are natively supported in FS-HDR via v4.1 firmware. The update also integrates v1.5 BBC HLG LUTs, which add two new LUTs for direct-mapping and up-mapping conversions for SDR BT.2020 to HLG BT.2100, and improves colour saturation in display light HLG BT.2100 to SDR BT.709 down-mapping conversions.
What's driving heightened demand for HDR in sports production?
Audience demand for high-quality content is growing as more consumers move to streaming services like Netflix, Disney+ and Amazon Prime. With new streaming services debuting regularly and viewers digitally distracted, sports rights holders also face steep competition in attracting audiences to their platforms and keeping them engaged, and HDR has proved an effective solution. It makes for a more visually stimulating experience comparable to what you'd see in person. Outside of broadcast and OTT, there's also a growing movement in sports venues to adopt massive HDR-capable production scoreboards to enhance the in-venue fan experience.
What are the HDR production challenges facing professionals today?
Live venue productions introduce unique challenges, namely in finding a way to maintain the look of the production as signals from in-venue cameras pass between the control room, a scoreboard and an external production truck, all of which may require different formats. High-quality conversion and knowledge of the source signal's colorimetry and transfer characteristics are requirements. FS-HDR v4.1 helps by decoding the source VPID and displaying it in a web UI, reducing set-up time and minimising confusion.
The pandemic also forced production professionals to think outside the box in terms of how they attract and engage audiences with live event coverage. Many invested in augmented reality (AR) graphics for a more dynamic, interactive experience with advanced in-camera visuals. However, these sources require intensive compute processing for real-time production.
To do it right, all other sources being mixed in real-time with the long processed AR source must be delayed by the same amount. Historically this has been difficult, but with FS-HDR v4.1, production professionals can use FS-HDR and delay signals up to 20 video frames, more than enough to compensate for the AR sources.
FS-HDR is also being used to convert a range of SDR sources, like specialty cameras positioned in goal posts, first-down markers, dirt cams, robo cams and other equipment on the field or in the arena, as well as replays, inserts and other standard graphics, for integration into the production.
How is HDR impacting distribution pipelines?
Most live sports productions and recorded content are distributed simultaneously in multiple formats, as not all consumers have access to UltraHD and/or HDR-capable displays. As HDR productions have grown in volume, so has the industry's need for conversion in the transmission path. For instance, HD HLG programmes might be sent to the headend, converted into UltraHD PQ and HD SDR, and packaged for distribution. In these instances, the preservation of ancillary data (ancillary time code, ATC packets or SCTE-104 packets) is crucial. SCTE-104 packets are vital because they're used by downstream equipment to trigger ad insertion.
We designed FS-HDR v4.1 firmware to address this demand, allowing FS-HDR to automatically pass through SCTE-104 packets for a wide range of formats and conversions. A new Timecode Xlator will also pass-through or translate ancillary timecode (LTC, VITC1, or VITC2) when doing a conversion, while other updates in the release expand the set of conversions that support Closed Captioning pass-through.
What's on the horizon for AJA and HDR in sports?
Although the production community is becoming more comfortable in its HDR shoes, the space is evolving rapidly, and AJA is closely following it. Updates like FS-HDR v4.1 allow us to take a product such as FS-HDR and integrate new features that help professionals address emerging HDR production requirements. We expect to see consumer interest in HDR content grow and once we've reached a point where the HDR audience is larger than its SDR counterpart, the full value of HDR and wide colour gamut can be leveraged, and AJA will be there to support it.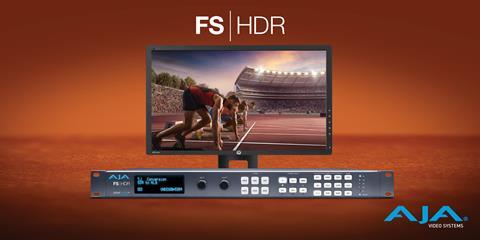 This is a sponsored article. For more information on AJA products and solutions, visit: www.aja.com