V-VAR allows officials to adjudicate from any location.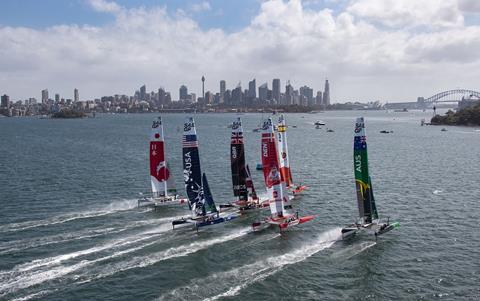 SailGP has become the first sport competition to sign up to Tata Communications' virtual refereeing solution.
Virtual Video Assisted Referee (V-VAR) is powered by Tata's Media Cloud offering, and allows an unlimited number of umpires, referees and judges to connect remotely and make decisions from any location.
SailGP will be using the system for its second season, which takes place over nine races in 2021/22. Tata is carrying over 20 live feeds from the broadcast centre at the venues, with the signal then available through its Media Cloud. The officials can then use these tools to make their decisions.
In addition to V-VAR, SailGP also takes advantage of Tata's Video Delivery Network - a low-latency streaming network that allows fans to watch races through the SailGP app.
Warren Jones, chief technology officer, SailGP, said: "We are constantly looking at ways to innovate and use technology to not only bring our global fans closer to the action, but also create digital solutions that support our Race for the Future ethos. The V-VAR not only ensures that our umpires have immediate access to all the data needed to make crucial, split-second decisions, but also – by being able to operate remotely – we reduce the carbon footprint of our umpiring operations."
Dhaval Ponda, lobal head of media & entertainment business at Tata Communications, added: "We are happy to further digital innovation & help reduce carbon footprint in live sports through Virtual Video Assisted Referee solution. Also, our low latency streaming solution enables global sports federations deliver video in sync or faster than live TV. From umpires to fans, these digital solutions enable organisations to offer a thrilling and high-drama experience to the entire sports ecosystem."