Oracle Stream Analytics will be used to bring viewers real-time race metrics during the second season.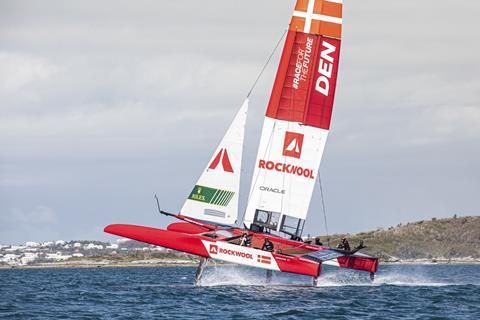 SailGP and Oracle have expanded their data analytics platform for the competition's second season.
Oracle Stream Analytics will be used in the upcoming campaign to bring real-time metrics to viewers and competing teams. The platform uses correlation patterns, data enrichment and machine learning to make autonomous decisions based on the 30,000 data points an F50 catamaran sends every second of a race.
It then blends and transforms this disparate data into one stream, down from the 10 streams SailGP shared in its first season. Viewers can then take it in through second screen experiences on the SailGP app or SailGP.com.
The information can also be customised for teams' dashboards, including open source data on rival sides, allowing them to decide on race strategies.
An expected 80 billion data requests will be sent to Oracle's London cloud region for analysis and worldwide distribution during the eight race season. Live video and audio feeds taken aboard the F50s are streamed to the cloud region for immediate broadcast, and simultaneously stored in Oracle Autonomous Data Warehouse - for SailGP production teams to create content for distribution. This season will be the first where all data and production activities are done remotely.
A SailGP simulator will also be created for this year, allowing teams to practise despite training being limited by Covid-19 restrictions to just a few days before each race weekend. Fans will be able to have a go on the simulator too, at future SailGP events.
SailGP CEO, Russell Coutts, said: "For Season 2, we're working on a number of new cloud-based innovations with Oracle to truly enhance the viewer experience and create efficiencies in the way we operate across all aspects of our business. The results are remarkable, especially on race days which are the ultimate showcase of data, technology and invention."
Ariel Kelman, Oracle executive vice president and chief marketing officer, added: "SailGP is one of the most data-rich sports leagues in the world, and data is in Oracle's DNA. The differentiator in our collaboration this season is the advancements in extracting information from large amounts of data and the speed at which it's done."
SailGP season two gets underway in Bermuda on 24-25 April.