WSC Sports' AI technology is being used to create highlights of the Russian and eastern European basketball league.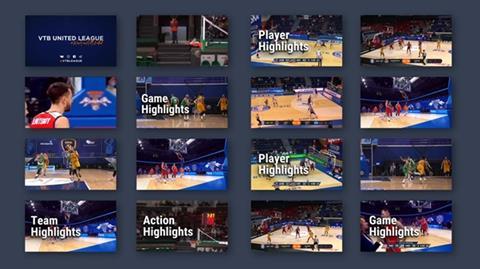 WSC Sports has partnered with the VTB United League, a basketball league based in Russia and eastern Europe.
WSC Sports' suite of AI technology is being used to create automated real time highlights of games, teams, actions and players, and distribute digital video content to fans across its social media and web properties.
The partnership began at the start of the current season, and tipped off with automatically created highlights during the VTB United League All-Star game held in Moscow in February.
Currently working with the league, WSC Sports' next step will be working directly with teams and players to maximize fan engagement, personalize their content, and build brand loyalty.
Itai Epstein, head of central eastern Europe, Russia, and China at WSC Sports, said: "We are excited to be expanding in Russia and partner with VTB United League to disrupt the way Russian basketball fans consume and share content. WSC Sports and VTB both share a passion for innovation and we look forward to bringing new technology and excitement to the league."
VTB United League general director, Ilona Korstin, added: "We recognize the huge potential impact of integrating with innovative technologies such as WSC Sports and thanks to their algorithms we have the opportunity to provide fans, and our partners, with all the best moments of the VTB United League games as fast as possible."
The VTB United League consists of 13 basketball teams from Russia, Belarus, Estonia, Poland and Kazakhstan, and joins the likes of the NBA and FIBA in WSC Sports' portfolio.