Japanese broadcaster NHK to host 8K screenings and talks at Cannes programme market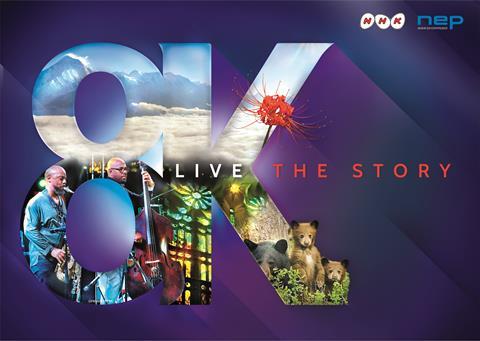 Japanese public broadcaster NHK is organising a series of screenings and talks on ultra-high-definition 8K video at next month's Mipcom market.
To stage the 8K showcase, MIPCOM is for the first time hosting the NHK 8K Theater, complete with a 248-inch 8K screen and a 22.2 multichannel sound system, located on the third floor of the Palais des Festivals.
The screenings will feature the international premiere of the adaptation of Kazuo Ishiguro's novel An Artist of the Floating World in 8K HDR. Japanese actor Ken Watanabe will be on hand to share his experience of playing the lead role.
As part of the showcase, called Live the Story: NHK 8K, there will also be sessions involving international producers who have partnered with NHK, plus the opportunity to see the resulting 8K content. One of the speakers is Alastair Fothergill, whose company Silverback produced Netflix hit natural history series Our Planet.
The sessions will highlight changes in 8K production, which until recently has been seen as requiring huge commitments of equipment and money. The sessions will turn the spotlight on 8K production in China, in music and art, one of the first genres to use 8K, and in natural history and science.
NHK has been at the forefront of 8K, launching the world's first 8K channel in 2018. The public broadcaster plans to broadcast the 2020 Olympic Games from Tokyo in 8K.
Yukinori Kida, NHK's executive director of broadcasting, said: "8K has mostly gained attention for the exceptional quality of its images and sound. By working with international creators, I have come to believe that 8K HDR is a tool for enhancing viewers' sensory and emotional perception. It offers a new way of storytelling — one that creates the ultimate immersive viewing experience."
The move comes amid a growing focus on 8K content at the market. Last month, Mipcom announced the first Japanese costume drama shot in 8K, The Return, will have its world premiere screening at the market in October.