Russell T Davies' historical drama scoops three gongs
A Very English Scandal has picked up three Bafta Craft Awards, beating Killing Eve and Patrick Melrose, which each won two awards.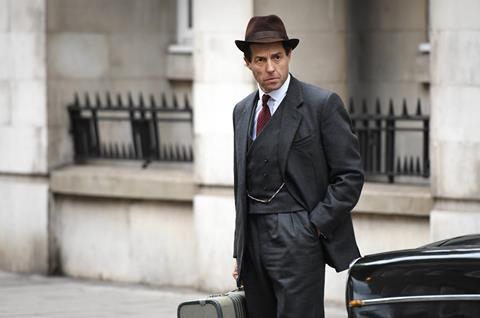 A Very English Scandal won for Costume Design, Director: Fiction and Editing: Fiction, while Killing Eve picked up awards for Original Music and Sound: Fiction. Patrick Melrose won the Production Design and Writer: Drama awards.
The awards celebrate the best behind-the-scenes television talent of the last 12 months. The awards ceremony was hosted by Stephen Mangan at The Brewery, London, with presenters including Greg Davies, Mel Giedroyc, Malachi Kirby, Bruce Oldfield and Michael Palin.
Other winners included Daisy May Cooper and Charlie Cooper for the Writer: Comedy category for This Country, with the Breakthrough Talent category won this year by composer, producer and writer Akemnji Ndifornyen for Famalam. The Bafta Craft special award went to script supervisor Emma Thomas for her outstanding contribution to the industry. She was script supervisor on classic TV series including Goodnight Sweetheart, Birds of a Feather, Benidorm, Bad Education, Luther and The Bill.
The Director: Factual award went to Ben Anthony for Grenfell. Sound: Factual was won by Later Live…With Jools Holland. The Special, Visual & Graphic Effects award was won by Troy: Fall of a City, and the 2018 Winter Olympics 'The Fearless are Here' animation won the Titles & Graphic Identity category.
Perhaps the biggest winner of the night was the BBC, with its programmes picking up the majority of the awards. Charlotte Moore, Director of Content, said: "I'd like to congratulate all the winners of the Bafta Craft awards. It was fantastic to see those who worked on so many BBC shows recognised in this way. We're proud to be able to work with some of the best talents in the industry behind the camera and their hard work makes a huge contribution to the BBC."
British Academy Television Craft Awards
Full List of winners and nominations (winners in bold below)
BREAKTHROUGH TALENT sponsored by Sara Putt Associates
AKEMNJI NDIFORNYEN (Composer, Producer and Writer) Famalam – BBC Studios / BBC Three
DAWN SHADFORTH (Director) Trust (Silenzio)– Minim / BBC Two
GEORGIA CHRISTOU (Writer) Through the Gates (On the Edge) – BlackLight Television / Channel 4
LIZZIE KEMPTON (Director) Manchester Bomb: Our Story – Blakeway North / BBC Three
COSTUME DESIGN sponsored by CARAT London
CHARLOTTE HOLDICH The Long Song – Heyday Television/BBC One
MARIANNE AGERTOFT The City and The City – Mammoth Screen/BBC Two
PHOEBE DE GAYE Killing Eve – Sid Gentle Films/BBC One
SUZANNE CAVE A Very English Scandal – Blueprint Pictures/BBC One
DIRECTOR: FACTUAL
BEN ANTHONY Grenfell – Minnow Films / BBC One
DAVID SOUTAR, JOE PEARLMAN Bros: After the Screaming Stops – Fulwell 73 / BBC Four
JAMES ROGAN Stephen: The Murder that Changed a Nation – On the Corner / BBC One
PADDY WIVELL Prison – Spring Films / Channel 4
DIRECTOR: FICTION sponsored by 3 Mills Studios
HARRY BRADBEER Killing Eve (Episode 1) – Sid Gentle Films / BBC One
MAHALIA BELO The Long Song – Heyday Television / BBC One
STEPHEN FREARS A Very English Scandal – Blueprint Pictures / BBC One
THOMAS VINCENT Bodyguard (Episode 1) – World Productions / BBC One
DIRECTOR: MULTI-CAMERA
BARBARA WILTSHIRE Inside No.9 Live: Dead Line – BBC Studios / BBC Two
BRIDGET CALDWELL The Royal British Legion Festival of Remembrance – BBC Studios / BBC One
JULIA KNOWLES, HELEN SCOTT, SIMON STAFFURTH The Royal Wedding: Prince Harry and Meghan Markle – BBC Studios / BBC One
LIZ CLARE The Voice UK – ITV Studios / Talpa / ITV
EDITING: FACTUAL
BEN BROWN Grenfell – Minnow Films / BBC One
EMMA LYSAGHT Louis Theroux: Altered States (Choosing Death) - BBC Studios: The Documentary Unit / BBC Two
MATT LOWE Drowning in Plastic – Raw TV / BBC One
WILL GILBEY Bros: After the Screaming Stops – Fulwell 73 / BBC Four
EDITING: FICTION
GARY DOLLNER Killing Eve (Episode 1) – Sid Gentle Films / BBC One
PIA DI CIAULA A Very English Scandal – Blueprint Pictures / BBC One
STEVE SINGLETON Bodyguard (Episode 1) – World Productions / BBC One
TONY KEARNS Bandersnatch (Black Mirror) – House of Tomorrow / Netflix
ENTERTAINMENT CRAFT TEAM sponsored by Hotcam
DAVE DAVEY, DAVID TENCH, DOMINIC TOLFTS, KEVIN DUFF The Voice UK – ITV Studios / Talpa / ITV
LISA ARMSTRONG, JASON GILKISON, MARK KENYON, RICHARD SILLITTO Strictly Come Dancing – BBC Studios / BBC One
NIGEL CATMUR, DAVID COLE, KATE DAWKINS, KEVIN DUFF The Royal British Legion Festival of Remembrance – BBC Studios / BBC One
TIM TELLING, TOM NEENAN, STEVE ANDREWS, BEN BLEASE The Mash Report – Zeppotron / BBC Two
MAKE UP & HAIR DESIGN sponsored by MAC Cosmetics
DANIEL PHILLIPS A Very English Scandal – Blueprint Pictures / BBC One
KONNIE DANIEL Mrs Wilson – Snowed-In Productions / BBC One
NICOLE STAFFORD, PETA DUNSTALL- The Little Drummer Girl - The Ink Factory / 127 Wall / BBC / AMC / BBC One
VICKIE LANG Vanity Fair – Mammoth Screen / ITV
ORIGINAL MUSIC
CHO YOUNG-WUK The Little Drummer Girl - The Ink Factory / 127 Wall / BBC / AMC / BBC One
DAVID HOLMES, KEEFUS CIANCIA Killing Eve – Sid Gentle Films / BBC One
MURRAY GOLD A Very English Scandal – Blueprint Pictures / BBC One
HAUSCHKA Patrick Melrose - Two Cities / SunnyMarch / Little Island Productions / Sky Atlantic
PHOTOGRAPHY: FACTUAL sponsored by The Farm
CAMERA TEAM Earth's Natural Wonders: Surviving Against the Odds – BBC Studios / BBC Scotland / BBC One
JAIMIE GRAMSTON Michael Palin in North Korea – ITN Productions / Channel 5
LINDSAY McCRAE Dynasties: Emperor – BBC Studios / BBC One
DANIEL DEWSBURY, STUART BERNARD, JONNY ASHTON The Mighty Redcar – 72 Films / BBC Two
PHOTOGRAPHY & LIGHTING: FICTION sponsored by ScreenSkills High-End Television Skills Fund
BALAZS BOLYGO Collateral – The Forge Entertainment / BBC Two
JAMES FRIEND Patrick Melrose - Two Cities /SunnyMarch / Little Island Productions / Sky Atlantic
JULIAN COURT Killing Eve (Episode 7) – Sid Gentle Films / BBC One
WOO-HYUNG KIM The Little Drummer Girl – The Ink Factory / 127 Wall / BBC / AMC / BBC One
PRODUCTION DESIGN sponsored by Microsoft
HELEN SCOTT A Very English Scandal – Blueprint Pictures / BBC One
KRISTIAN MILSTED Killing Eve – Sid Gentle Films / BBC One
MARIA DJURKOVIC, TATIANA MACDONALD The Little Drummer Girl – The Ink Factory / 127 Wall / BBC / AMC / BBC One
TOM BURTON Patrick Melrose - Two Cities / SunnyMarch / Little Island Productions / Sky Atlantic
SOUND: FACTUAL
DOUG DREGER, ROWAN JENNINGS Michael Palin in North Korea – ITN Productions / Channel 5
KATE DAVIS, STEVE ONOPA Amy Winehouse: Back to Black (Classic Albums) – BBC Music / Eagle Rock Entertainment / BBC Two
SOUND TEAM Later Live…with Jools Holland – BBC Studios / BBC Two
TIM OWENS, GRAHAM WILD, KATE HOPKINS Dynasties: Chimpanzees – BBC Studios / BBC One
SOUND: FICTION
SOUND TEAM A Very English Scandal – Blueprint Pictures / BBC One
SOUND TEAM The Little Drummer Girl – The Ink Factory / 127 Wall / BBC / AMC / BBC One
SIMON FARMER, DAN JOHNSON, MARC LAWES Bodyguard – World Productions / BBC One
SOUND TEAM Killing Eve – Sid Gentle Films / BBC One
SPECIAL, VISUAL & GRAPHIC EFFECTS
ADAM McINNES, JOHN SMITH, KEVIN HORSEWOOD Troy: Fall of a City – Wild Mercury / Kudos / BBC One
GLASSWORKS, JEAN-CLEMENT SORET, CLAYTON McDERMOTT, MARK COULIER Bandersnatch (Black Mirror) – House of Tomorrow / Netflix
KENT HOUSTON, PEERLESS, FREEFOLK, ASA SHOUL The Alienist (Episode 1) – Paramount / TNT / Netflix
SIMON FRAME, MARTIN OBERLANDER, ADAM INGLIS Britannia – Vertigo Films / Neal Street Productions / Sky Atlantic
TITLES & GRAPHIC IDENTITY
SMITH & FOULKES, MARK ROALFE 'The Fearless Are Here'- The 2018 Winter Olympics - BBC Sport / Nexus Studios / Y&R / BBC One
ALLISON BROWNMOORE, ANTHONY BROWNMOORE, JOE NOWACKI Take Your Pills – Blue Spill / Netflix
MATT WILLEY Killing Eve – Sid Gentle Films / BBC One
STEVE SMALL, KRISTIAN ANDREWS, NIKKI KEFFORD-WHITE Black Earth Rising – Forgiving Earth / BBC Two
WRITER: COMEDY
DAISY MAY COOPER, CHARLIE COOPER This Country – BBC Studios / BBC Three
PETER KAY, SIAN GIBSON, PAUL COLEMAN Peter Kay's Car Share: The Finale – Goodnight Vienna Productions / BBC One
STEFAN GOLASZEWSKI Mum – Big Talk Productions / The Money Men / BBC Two
WRITING TEAM Cunk on Britain – House of Tomorrow / BBC Two
WRITER: DRAMA
DAVID NICHOLLS Patrick Melrose - Two Cities / SunnyMarch / Little Island Productions / Sky Atlantic
LENNIE JAMES Save Me – World Productions / Sky Atlantic
PHOEBE WALLER-BRIDGE Killing Eve – Sid Gentle Films / BBC One
RUSSELL T. DAVIES A Very English Scandal – Blueprint Pictures / BBC One
BAFTA CRAFT SPECIAL AWARD

EMMA THOMAS Script supervisor