Jigsaw24 Media will be exhibiting at the 2022 Media Production and Technology show (stand L414) held at Olympia London on May 11 & 12. The media system's integrator will demonstrate end-to-end post-production services and technologies at the show.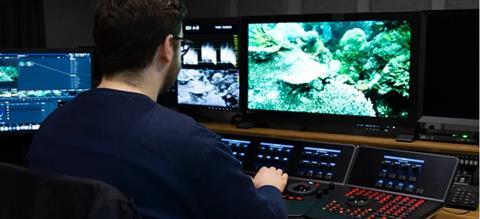 Jigsaw24 Media's stand at MPTS will reflect their clients' post-production environments with sections dedicated to video, audio and remote working solutions delivered in collaboration with the media systems integrator's technology partners. Their team of industry experts will be on hand throughout the event to discuss and demonstrate the business' end-to-end services and technology, including their unique systems integration and virtualisation capabilities. Jigsaw24 Media's new brand will also be revealed at the show as part of a dynamic stand design.
Jason Cowan, Jigsaw24 Media's business director said, "It's an exciting time for Jigsaw24 Media as we've recently redefined our strategy to focus on post -production services and technologies and shifted from a product focus to a service-led approach to meet the evolving needs of our media and entertainment clients. These changes will be evident in our presence at The Media Production and Technology Show, and we're looking forward to reconnecting with our colleagues, customers, vendors (and even our competitors!) at the exhibition."
Video and work-from home solutions
Jigsaw24 Media enables post-production workflows - from offline editing to finishing and grading – in any environment. As such, their stand will feature a Mac Pro running Avid Media Composer, Adobe Premiere Pro and Davinci Resolve applications as part of both on-prem and remote workflows. MPTS visitors will discover how the media systems integrator provides an on-premise experience at home, delivering high quality pixels to remote edit stations securely and with low latency.
Some of the video editing solutions on display will include :
Traditional on premis Avid NEXIS and Media Composer workflows
Camera to cloud workflows with Premiere Pro and Frame IO.
Editing directly from the cloud using cloud storage mounted as a local volume, with LucidLink and Teradicci.
Delivering colour-accurate grading reviews to remote locations using the Streambox Spectra plugin, Eizo Dolby vision mastering monitors with automatic calibration, and Davinci Resolve's new advanced panel workflows.
Cloud storage and asset management with Editshare ESV, Flow and AWS.
Audio Solutions
As one of only two UK-based Avid Elite partners in both video and audio, Jigsaw24 Media will demonstrate their ability to deliver multiple channels of digital audio across a network as part of an integrated post-production workflow at MPTS. The team will use an Avid S4 console with Avid Pro Tools to deliver Dolby Atmos surround sound via the Dante audio over IP network, supported by both Avid and Dolby representatives on the stand.
Virtualisation
Jigsaw24 Media will demonstrate how transitioning from an on-premise hardware to a clustered, virtualised environment provides access to a range of creative tools from one device, giving post-production teams more creative freedom and facilitating the efficient use of resources. Visitors to the Jigsaw24 Media stand will see how Nutanix's hyperconverged infrastructure (HCI), running on Lenovo servers, facilitates the virtual deployment of various media workloads including Avid Media Composer, Adobe Premiere Pro and Avid NEXIS.
Solution specialists on the stand
In addition to Jigsaw24 Media's leadership and sales teams, the following solution specialists will be available for meetings and demos at the show.
Chris Bailey and Gerry McGachy, post-production and remote workflows.
Rolf Martens, audio post-production.
Sebastian Khanlo Nielsen, finishing and delivery technical design and training.
Phillip Boettcher, workstation and storage configuration.
Graham McGuinness, technical architecture and virtualisation.
Nick Arlow, systems integration.
Find out more at www.Jigsaw24.com.