IBC 2016: Outside broadcast firm Arena has successfully delivered UHD coverage of a Premier League game for BT Sport using its new IP-equipped truck.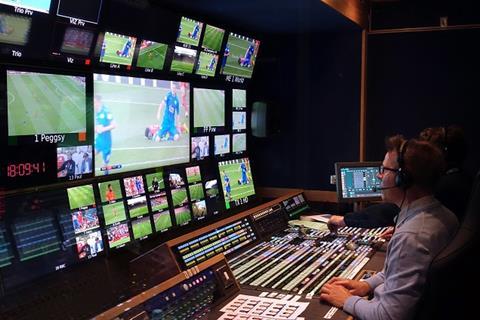 Arena's OBX vehicle was used to capture the action at the Liverpool v Leicester City game on Saturday and provided simulcast UHD and HD coverage of the match.
BT Sport chief operating officer Jamie Hindhaugh said: "We started our UHD coverage in 2015 with a dual truck workflow; one vehicle for the HD coverage and another for 4K.
"That provided the opportunity to shoot 4K differently but it became clear that those who enjoy watching sport want the same environment rather than different commentators and a different cut, so it was important to move to a single truck for our aspirations for the way the games are covered as well as economically."
Arena was tasked with providing a vehicle that would help BT Sport to realise its ambitions of a single truck approach.
Arena managing director Richard Yeowart said: "We were concerned that adopting a quad HD route (for the UHD coverage) would be very difficult to achieve in one truck in a reliable way because of the amount of router capacity you would need and the cabling to go into it.
"We talked to the usual technology partners that OB firms tend to use and it became apparent that only one company was thinking outside the box in how to move technology forward.
"The emerging technologies from Grass Valley seemed like a very obvious fit for us, and after speaking with them it became apparent that the way the new technology would be rolled out would be ideal for our time frame to meet BT Sport's requirements.
"What we have now is the most powerful OB solution which provides greater flexibility going forward, is future-proofed and better able to one day roll out HDR and higher frame rates as and when they are required.
"It has been more expensive to accomplish than building a quad HD truck but we hope the investment will give it a longer life."
Glass-to-glas workflow
The vehicle, which was built with Arena by systems integrator Videlio, has a 'glass-to-glass' Grass Valley workflow. The company's GV Node IP Edge Routing Platform with integrated multiviewer, Grass Valley LDX 86N Series cameras, which use TICO compression, and Grass Valley's Kayenne production switcher with K-Frame were chosen.
Grass Valley's proof of concept testing resulted in the use of a Cisco Nexus 9000 series switch, while technology from Lawo provides an operational layer of virtual control panels and routing tables that make the truck familiar to operators used to working with SDI equipment.
"A lot of manufacturers were very much still in baseband mode, and Grass was exceptionally forward thinking with this project," says Yeowart.
"They were flexible in terms of the technology that they offer could have worked with other providers if we wanted a mix of solutions in the truck but from our point of view, the most straightforward way to bring this project to fruition was to ask Grass Valley for a glass-to-glass solution. With IP direct out of the cameras CCU into the chain of the truck and vision mixer, the whole thing was perfect fit for us."
Grass Valley president Marco Lopez added: "There are a lot of sceptics - people who did not believe that an IP infrastructure could be used in such a demanding and dynamic environment as live sports. And I think we have debunked that and proved them wrong."
OBX has been in development since 2014. It was completed and tested before the start of the season, but Arena and BT Sport felt that because of the Premier League's high value rights a period of extended soak testing and a soft launch process was required.
"There is a dichotomy because our ambition is 4K, but our bread and butter and our rights obligations are HD, and so with the introduction of UHD we can't compromise the HD output. That is critical," added Hindhaugh.
OBX will be followed by IP-enabled UHD trucks OBY, which is due to launch later in 2016 and OBZ will follow in 2017.
IP training
Arena MD Richard Yeowart said that while it was easy for the production crew to quickly forget that the backbone of the truck is completely IP, the engineering team needed "a completely different mindset".
He said: "We have added an IP guarantee engineer to keep an eye on the health of the equipment and make sure it is all running smoothly. Also, the majority of our technical team are completing Cisco courses to be 100% familiar with the way the router works. When you look at the way that we are now moving data around the truck staff training has been essential."