A new 90-suite, 33,000 sq ft facility on Newman Street will be the hub for all of post group The Farm's UHD and HDR work.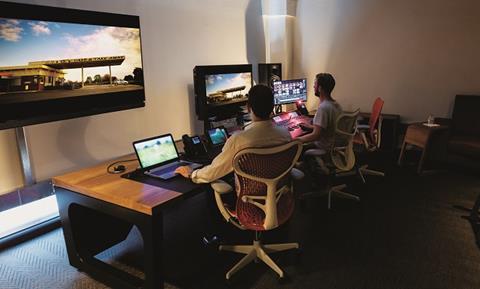 You know you are dealing with a large building when the cabling is measured in kilometres and the sofas in feet.
The Farm has three other buildings in central London, as well as operations in Bristol, Manchester and Los Angeles, plus and an in-house facility at UKTV, so is well practised in setting up a new post-production operation.
But due to the size of the task of building and equipping its new 90-suite facility at Newman Street in Fitzrovia, it adopted a less iterative approach than usual.
The Farm chief executive David Klafkowski says: "We always thought we were better than the old-fashioned rules of design, design, design and then implement, so we used to design a bit, implement it and then design a bit more and see what worked.
"For this building, we had to design and implement and not change our minds."
The move was prompted by the decision of the landlord of The Farm's Soho Square HQ to redevelop that building into a single residential property.
It took almost three years for The Farm to find a new home, but the move provided an opportunity to add extra capacity and reduce the group's use of dry-hire cutting rooms and pop-up facilities.
The 33,000 sq ft, seven-floor premises houses 48 offline edit suites, eight online suites, six audio suites and two grading theatres, all connected by dark fibre to The Farm's other sites.
Newman Street in numbers
£10m Cost of refurbishing and equipping the building
130 Number of contractors
15km Length of fibre cable used
70km Length of Cat6a cable used
2,000 Number of network points
40 Racks of equipment
120ft Combined length of sofas
One reason for the more disciplined approach was the need for the top two floors to open by March, six months after building work began and three months before the rest of the building opened in June.
Jeremy Clarkson, Richard Hammond and James May's upcoming Amazon Prime show The Grand Tour – a UHD and HDR delivery – was one of the first to be completed in the building, which is the hub for all of The Farm's UHD and HDR projects.
"We've built a facility to make working in 4K/UHD painless, and we are leading the way in HDR with our work with Amazon and Sky," Klafkowski says.
"It has been hard work, but we have built a proper facility for the next 10 years."
With the discontinued Avid DS limited to HD finishing, The Farm invested in two Autodesk Flame systems along with Sony BVM-X300 monitors. However, the key elements needed for working with UHD content are faster storage and local high-bandwidth monitoring, says Klafkowski.
"To support UHD and HDR, all the kit is high data rate and interconnected; 10Gb Ethernet infrastructure for our IT and metadata with separate 16Gb fibre channel infrastructure for our finishing SANs."
Shared storage
The Farm has adopted Rohde & Schwarz Spycer Box Cells, which provide around 150TB of finishing storage area network (SAN) capacity.
Rupert Watson, director of Root6, which supplied the Spycer Box Cells, describes the workflow as equivalent to a "high-performance F1 car".
He adds: "Both Netflix and Amazon are asking for fairly significant data rates in terms of post-production of uncompressed 4K files – in the order of 1.3 to 1.6GB/s, which is not for the faint hearted.
"Spycer Box Cells are 1u deep with 30 discs and are super-fast, so you can build a dense and quick shared-storage set-up."
The building's scale and construction deadline also required a different approach to wiring.
Robin Howell, director of systems integrator Wire Broadcast, says his company initially worked with building firm Overbury.
"We had a split contract, working with the builder on the structure and then with The Farm directly. I'd not worked in that way on a post facility before, but it is such a massive building that if we'd waited until it was finished and handed over before we started running stuff around the building, it would have added weeks to the project."
It also helped to put the post facility's specific requirements at the heart of the construction process, rather than being a layer on top.
"The building is flood wired with Cat 6a structured cabling, multi-mode and single-mode fibre," says Howell.
"There is no traditional copper around the building at all and not a single audio or video cable outside the machine room; everything runs over a network protocol or via fibre."
The personal touch
With client satisfaction such an essential aspect of post-production, maintaining a personal touch is of paramount importance.
But how do you create a boutique feel in a facility spread over tens of thousands of square feet and multiple floors?
One way that The Farm has attempted to solve this problem is by giving each floor a theme and every suite a name.
The top-floor cutting rooms are all named after mountains: K2, Kilimanjaro, Whistler and Mont Blanc. Rooms on the fourth floor are named after comic legends; the theme of third floor is music legends; and the basement rooms are named after Underground lines.
First-floor rooms are all named after prisons, which means The Farm's colourists – and their clients -find themselves confined to Guantanamo and the Bangkok Hilton.
Audio post specialist Scrub supplied six Avid S6 consoles, which were paired with custom AKA Design desks.
The Farm has two S6 consoles in its UKTV set-up, but Newman Street is its first large installation of the Avid hardware.
To create a more ergonomic desk, the S6 parts were removed from their housings and wrapped around the audio engineer to cut down on the amount of movement. Scrub head of sales Ben Scully says:
"Between us and Guy [Wilson, AKA Design managing director] we managed to get the most amount of desk in a comfortable orientation.
"The most important things are ergonomics, ease of use and transparency across all of the suites, so we needed to keep things relative to the workflow offered by the D-Command, while also looking to the future."
Audio signal recorded from the 60 offline suites, such as guide tracks and rough voiceovers, are distributed through a dedicated Dante interface in each suite.
This is converted into AES via Digital Audio Denmark (DAD) interfaces and sent to Media Composer. "We distributed out via AES, so had eight additional AES cards to give 64 channels of AES pairs. We went in with Dante and out via AES to the Media Composer workstations," says Scully.
"It came down to the fact that they wanted to be able to dial into desktops and have everything network attached, and through that network provide flexibility for creatives.
"Before, you would have to run reams of balanced analogue cable to do a similar thing and there would be so many points of error and patch panels.
"To have a Cat5 wall socket to supply the power and connectivity to plug in a mic and record scratch vocals over a Media Composer project saved so much money in cabling and complexity. It took effort on the engineering and network admin side to get it up and working, but it's given them lots of flexibility."
Scully adds: "Being able to layback tape directly from Pro Tools via the SDI has never been this simple before. Whereas the DAD AX32 was initially a success with the film guys, it is now showing how integral it is becoming to the workflows in long-form TV when working with tight schedules."
Unique to The Farm's building is a custom-made audio monitoring system designed by Wire Broadcast and manufactured by Sonifex.
A version of the box, minus the delay function, had been installed at The Farm's William building. As well as volume, input selection, cut, dim and headphones, the unit provides an integrated, switchable audio delay for system timing.
"You could control input switching into the speakers, volume, mute and delay with multiple boxes, but not all those things in one unit," says Howell.
"We made 65 of them for Newman Street; those kinds of numbers make it cost-effective to make custom kit."
In-house graphics
The large square footage allows The Farm to accommodate motion graphics, CGI, VFX and animation studio DazPix.
In September, an independent, four-person team will move in to work on their own projects as well as The Farm's, giving The Farm its first in-house motion graphics unit.
DazPix will rent 350 sq ft of office space and remain an independent entity, working on its own projects, but The Farm will also promote and introduce DazPix to clients, where appropriate, and vice versa.
While DazPix will, in effect, provide The Farm with a ready-made department, finding the right expertise to run the building was another challenge.
A recruitment drive and a ramping up of internal training were needed to find the 70 technical operators and 70 picture and audio creatives.
"To build up the creative and operational team has taken nearly a year. We are proud of our homegrown talent and we have got some great new faces. It is the staff that are the heart of the building and we think we have the best in the business," says Klafkowski.
Making a stand on adjustable desks
Newman Street is one of the largest single projects in which furniture design company AKA Design has been involved.
It supplied 80 pieces of technical furniture, including desks for grading theatres, audio suites and a striking, pill-shaped reception desk (below).
But the 58 height-adjustable desks for the offline and online rooms have been the biggest hit among editors.
"Many editors have bad backs, wrists and RSI," says Wilson.
"There are many studies about the benefits of standing while you work; it's been proven that it is more productive and better for your working day.
"My only concern was how clients would feel, but apparently they love it because it breaks the day up; they can sit in the morning and then stand up in the afternoon."
The powered 'rise and fall' desks allow editors to choose the height of their workstation and stand if they prefer.
An optional app could allow the height to be automatically adjusted when an editor walks into a room.
Says Klafkowski: "They aren't a new concept – they have been around for a long time – but I've never known them to be as elegant as this."
This article is taken from the Sep/Oct issue of Broadcast TECH