Cerebral and emotional, Tempestad is a road movie fuelled by the memories of unjust punishment.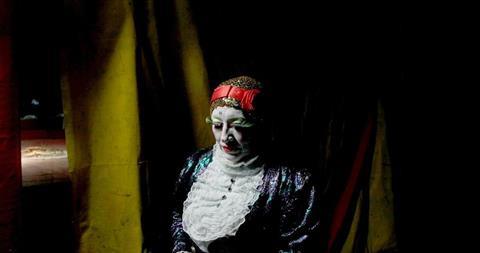 Dir. Tatiana Huezo, Mexico, 2016, 105 minutes
It's a bumpy but illuminating ride. Tatiana Huezo's essay is a meditation on corruption and on the notion ofimpunidad, the impunity or unaccountability of those in power, whether it's the Mexican government or its drug cartels. Huezo's film is another indication of the creative cinema crucible that Mexico has become, although the director (a Salvadoran working in Mexico) is at the extreme end of that spectrum from Inarritu and or del Toro.
This experimental hybrid doc (Huezo's second at feature length) has too much formal ambition to bring in many invitations from Hollywood, but Tempestadwill travel widely from festivals to the international human rights circuit, and to art houses in North America and Europe. At a moment when critics are demanding more films by and about women, it could not be more timely.
Huezo situates raw testimony about a woman's arrest and confinement within a cosmology from Franz Kafka. A narrator whom we hear but don't see tells of being detained by police and charged with human trafficking, without evidence. The first-person account tells of the confinement of Huezo's unnamed friend for almost a year. Police place her in a private prison run by a cartel where she's tortured and forced to come up with $5000 in order to live. Her relatives then pay her jailers $500 a week to keep her alive. She tells this story on a bus trip home, from Matamoros on the US border to Tulum on the Yucatan coast.
Inside that tale is parallel story of a family of circus performers, who are shown training their children from a young age. We never know if this story is staged. A woman from the family says that one of the children was kidnapped and held for ransom.
On the bus ride, the camera lingers on face after face of ordinary travellers. As police stop them for routine checks that seem scripted, we sense that that any citizen could fall victim to the narrator's fate. The route is not the majestic Mexico of tourist brochures, but of grimy bus stations and lorries jamming the roads. If corruption is one side of everyday life, the long congested trek home is another.
Like disappearances and kidnappings, the life-defining trip across Mexico is a well-worn story-telling device, best known from Alfonso Quaron's coming of age comedy Y Tu Mama Tambien (2001), an adolescent joy ride from the capital to the Pacific Coast. There's no laugh track inTempestad; extended shots of solitary travelers call to mind the sobering and influential odyssey of Robert Frank in his photographic project, The Americans (1959).
In a season of films about the U.S.-Mexican border and the general theme of migration, Tempestad finds its tensions within Mexico itself, a vast and varied country of high-minded rhetoric and everyday hypocrisy. The narrator does note that she meets Central American migrants during her confinement — seized while passing through Mexico — and that they are treated horribly.
Huezo's circus-themed film-within-a-film is an enigma that feels like a parable. Mistrustful of anything official, the director seems to view performance as a privileged vocation nurtured by and passed on through families. Scenes of tiny children taking naturally to imitating a line of elephants bring refreshing charm to the dismal larger story. Yet Huezo's doc manages to surround this silver lining with a cloud. The circus, in the bigger picture, is just a sideshow, delightful somersaults with no effect on the outside world.
Mexicans won't miss the title's allusion to a popular telenovela of the same name. But Huezo's Tempestadasserts itself as the antithesis of anything commercial, and its testimony on the plight of ordinary women could be denounced by some for echoing Donald Trump's view of Mexico as a country of crime that should be walled off from the US. The real problem, as we're told in Tempestad's drive-by reminiscences, is official crime. And Americans are the least of its victims
Production companies: Pimienta Films, Cactus Films, Terminal Films, StarkSales
International sales: Cinephil info@cinephil.co.il
Producers: Nicolas Celis, Sebastian Celis, Pepe Cohen, Joakim Ziegler
Executive producer: Jim Stark
International sales: Cinephil info@cinephil.co.il
Screenwriter: Tatiana Huezo
Cinematographer: Ernesto Pardo
Editors: Lucrecia Gutiérrez-Maupomé, Tatiana Huezo
Music: Leonardo Heiblum, Jacobo Lieberman
Sound Design: Lena Esquenazi
Sound: Federico González Jordán