History is in the eye of the beholder in The Confession, a detailed, wide-ranging interview with Moazzam Begg, a former British detainee at Guantanamo Bay.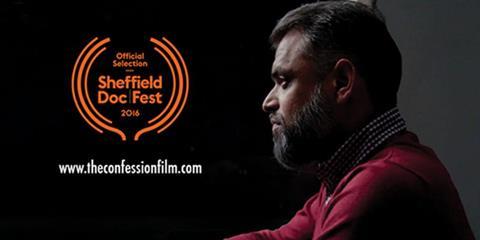 Dir: Ashish Ghadiali. UK. 2016. 95 mins
History is in the eye of the beholder in The Confession, a detailed, wide-ranging interview with Moazzam Begg, a former British detainee at Guantanamo Bay. In the eyes of the British state, Begg is a dangerous Islamic radical with murky links to numerous global organisations from the Bosnian Mujahideen to the Taliban in Afghanistan. Begg claims to merely be curious about the world, and eager to form his own opinions untainted by the prejudices of mainstream western media. It is worth noting that he has never been convicted of a single criminal act.
His testimony offers a lucid defence of his position and compelling chapter and verse on his experiences at the hands of the British authorities, so ensuring that director Ashish Ghadiali's documentary feature debut is guaranteed to ruffle feathers. Any controversy it attracts following its world premiere at Sheffield Doc/Fest should only enhance its theatrical potential, especially in the UK where it will be released in August.
Moazzam Begg was born in Birmingham, the son of a bank manager who immigrated to Britain from Pakistan. He was educated at a Jewish school and his questioning of his identity and decision to embrace Islam coincided with vast upheavals in the world, from the ethnic cleansing in Bosnia to the 9/11 attacks.
The Confession takes the form of a police style interview in which Begg is lightly grilled, challenged about his views and allowed to provide testimony that covers his side of the story. When he talks of his detention at Guantanamo Bay and the torture and abuse he endured, the film has the grip of similarly themed The Fear Of 13 or The Fog Of War.
Throughout his interview, Begg remains composed and reasonable, offering plausible explanations for his visits to Bosnia, Chechnya and Afghanistan. Archive footage is used throughout to provide background on global conflicts that constantly cut across his life. Begg is extremely precise in his use of language, denying that he went to Afghanistan to join the Taliban but agreeing that he did live under them.
He states that he did not agree with al-qaeda as an organisation, but feels that we need to recognise their arguments. Every adventure from Bosnia to Syria is a chance to explore and seek the truths he felt were not allowed a platform in the British media. There is even a sense of arrogance about him. Arrested in 2001 on charges that were subsequently dropped, he remarks: "I wasn't anti-State. The State was anti-me."
Is Begg clever and calculating or spectacularly naive in assuming his actions would not attract the attention of the British security services? Is Ghadiali naive in giving him this platform? On the other hand, however, you want to give him the benefit of the doubt as a British citizen with the right to freedom of movement, free speech and a proper trial had he ever committed a crime. It is that constantly shifting balance of sympathies that make the film so intriguing, especially when it comes to his description of what happened during the three years he spent at Guantanamo Bay.
Begg persuasively argues that his beliefs have been shaped by the demonisation of Islam in the west. He believes in helping the oppressed, he seems genuine in his love for a multi-cultural Britain but also speaks in favour of jihad in its most noble and pure form as a means of rising above conflict. It is those contradictions that make Begg a fascinating figure and give The Confession a distinctive perspective on global events from the past quarter a century.
Production companies: Rogan Productions, BFI, BBC Storyville, Shoebox Films, Creative England
International sales: Dogwoof vesna@dogwoof.com
Producer: James Rogan
CInematography: Keidrych Wasley
Editors: Nse Asuquo, Simon Barker
Production design: Beck Rainford
Music: Nitin Sawhney