Complete picture and audio post-production, as well as the design of new titles, for a return of the cult gameshow.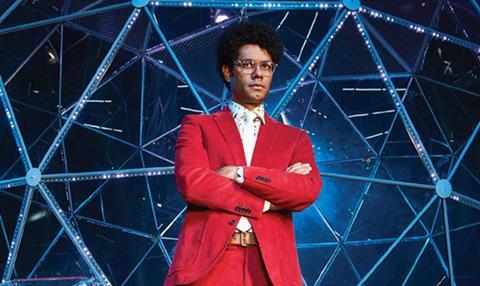 Post/Titles Evolutions/Liquid
Client Fizz TV
Brief Complete picture and audio post-production, as well as the design of new titles, for a return of the cult gameshow. In the latest incarnation, a new Maze Master, Richard Ayoade, will guide teams of five intrepid adventurers through four zones - Aztec, Industrial, Medieval and Futuristic - that have been re-imagined by original designer James Dillon.
How it was done For the recording process, at Bristol's The Bottle Yard Studios, Evolutions used its Luther ingest system, a custom-built set-up that comprises two discrete ingest paths recording eight ISO camera feeds and 64 tracks of audio.
Main and parity streams were recorded for full redundancy with an LTO tape back-up for archive. The system records XDCam50 MXF fi les, removing the need for any additional ingest or transcoding. This allowed for a fast turnaround from studio to edit.
Once recorded, the footage was edited on Avid Media Composer version 8 running on HP Z820 PC workstations. For finishing, Evolutions worked closely with series producer Myles Jenkins to create a 'look' for each zone that would complement the physical set.
Sapphire plug-ins were used inside Avid Symphony to add some subtle effects.
The playful nature of the presenter allowed the online team to have some fun with certain aspects of the show, including adding a teleportation effect for the entrance and exit to the Futuristic Zone. James Beynon and Arun Hall completed the grade and online for the series.
The focus for the audio was on dialogue clarity and retaining the drama of each game situation. Unique reverb designs for each zone in the maze helped to bed in the action and give a sense of location. Will Norie and Joe Siddons mixed the sound in Pro Tools.
For the titles, Liquid worked with both Fizz TV and the creator of The Crystal Maze live experience, Little Lion, to produce a contemporary version of the original brand. This covered the logo, zone icons, titles and the map that shows the paths around the different zones.
The title sequence includes dynamic moves around a 3D crystal dome, using the crystal facets as windows through which the viewpoint transitions in and out of footage from the show. The titles and 3D maps were created in Maya, with rendering in
Arnold, in order to achieve the refractive effects of the crystal facets. The creative director for Liquid was Asra Alikhan and the head of animation was Gabriel Edwards. Tim Varlow was the senior designer with Salva Gimenez working as senior creative.
Watch it Friday 23 June, 9pm, Channel 4