Provide post-production and visual effects for a 135-minute fantasy drama, based on Jasper Fforde's novel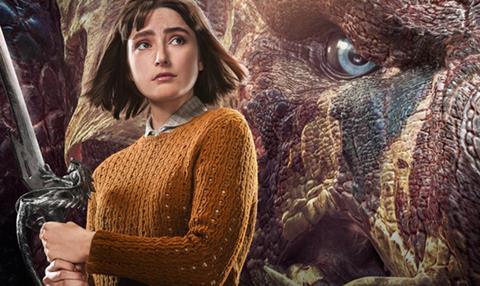 Post/VFX Molinare/Milk
Client Blueprint Pictures
Brief Provide post-production and visual effects for a 135-minute fantasy drama, based on Jasper Fforde's novel
How it was done Working with DoP Adam Etherington and VFX supervisor Adam McInnes, senior colourist Asa Shoul opted for a glossy and colourful look that was applied using Baselight.
The trickiest scenes were those featuring a dragon, which were shot over several days in extremely changeable weather conditions. For these, Shoul added sunlight to cloudy shots and pulled additional detail from the skies.
The lead actress's cloak was given a very precise burgundy colour, while the grass was made to appear golden and rocks were supplemented with a stoney blue.
Mattes were used to correct the colour of the dragon across all scenes, putting the focus on the tips of its wings.
For the dragon sound effects, editor Tony Gibson recorded himself growling, snarling and roaring and then combined that audio with other animal sounds.
Dehumaniser 2 and Form by Native Instruments were used. Jamie Caple edited the dialogue and completed ADR, while Nigel Squibbs completed the final audio mix. Molinare also completed some rig removals, matte paintings and set extensions.
Milk delivered 160 effects shots in total, focused primarily on the conception, animation and performance of the dragon, Maltcaisson. Maya, Nuke, Mari, Zbrush, Houdini and Golaem Crowd were used.
The VFX supervisor for Milk was Nicolas Hernandez, with Joe Tarrant supervising the animation.
Watch it Christmas Day, 5.45pm, Sky 1