How the famous studios have been brought into the 21st century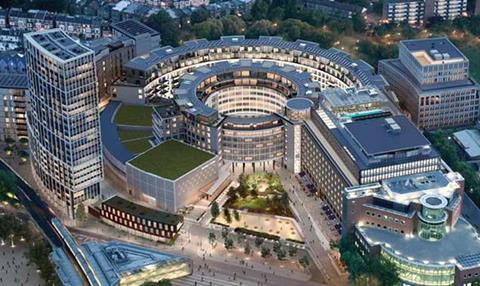 The BBC's former home in White City reopens its doors to TV productions this year. George Bevir reports on how the famous studios have been brought into the 21st century
After a hiatus of four-and-a-half years, the studio lights at Television Centre (TVC) will soon be switched on and it will once again be able to house some of the country's most popular programmes.
But when productions do return to the site, they will find a very different facility to that which the BBC vacated in 2013.
The BBC, including its wholly owned commercial subsidiary BBC Studioworks (previously known as BBC Studios and Post Production), moved out of the White City building in 2013 after the west London site was acquired by property developer Stanhope in a deal that netted the broadcaster £200m.
Since then, sections of the site have been bulldozed and rebuilt to transform the bulk of the area into 950 homes, a 47-bedroom hotel, a branch of private members' club Soho House, offices, restaurants and shops.
In September, ahead of residents moving in at the end of the year, Studioworks will throw open TVC's stage door to revamped studios TC1, TC2 and TC3, plus new production galleries and edit suites.
There will be less studio space available at TVC than before the builders moved in: including the 10,800 sq ft TC1 studio, Studioworks will be offering a total of 21,750 sq ft of studio space – around 24,000 sq ft less than when TVC closed.
However, the studio space and facilities at TVC, which are now being kitted out, will be better suited to today's production needs, says BBC Studioworks commercial manager Meryl McLaren. "We learned a lot from our fit-out of Elstree [see box] and the feedback we received from our customers," says McLaren.
"Because they have different views, depending on the types of shows they work on, we have tried to round up the best of everything and create something that will work for any type of production. Our hope is that we will work with anything from daytime to high-end Saturday night entertainment shows."
Technology challenge
With the broadcast industry in the throes of major technological change, choosing the infrastructure and equipment for a television production facility that serves today's productions and will remain relevant for tomorrow's has been a tricky process.
The pathway to high-resolution formats appears clear, with much of BT Sport and Sky's sports output being screened in Ultra High Definition (UHD), and the likes of Netflix and Amazon streaming high-end original scripted content in UHD. But there isn't currently much demand for
UHD studio-based productions. Studioworks undertook an 18-month technical evaluation, with a broadcast equipment tender taking place last summer for "client-tailored and futureproofed solutions that would ensure it remains at the forefront of the UK studios market for the long term".
It needs to be innovative as well as familiar and reliable.
"We provide HD, and we are still – although very rarely – asked to deliver SD," says McLaren.
"Our clients, of course, want something that works now, and they were very keen for us not to spec a studio that was too expensive to accommodate in their production budget. But we needed to work out what is likely to happen in the next five to 10 years because we are not sure when the demand for UHD will come from broadcasters.
"At the moment, it is very early in terms of demand for UHD in the type of programmes we specialise in, such as entertainment and panel shows, so we need to make sure that what we invest in works now and is affordable, but with enough futureproofing to deliver as and when the demand does come."
Studioworks' approach is to equip the largest studio, TC1, with the capability to shoot in both HD and full 4K UHD (delivered over IP or traditional SDI infrastructure), while TC2 and TC3 will be HD studios that are "only a couple of upgrades" from delivering 4K, according to BBC Studioworks procurement manager Elom Bell.
EMBRACING THE IP REVOLUTION
Sony is providing 22 studio cameras, vision mixers and more than 200 monitors that will enable UHD productions at TVC through use of the manufacturer's
IP Live Production System. "A key component is the cameras, and a typical camera investment cycle is around seven to ten years, so what is bought now might not be replaced until 2025, by which time we would expect 4K to be bread and butter," says Sony Professional business development manager Nick Smith.
Sony has supplied a mixture of HDC-1700 and HDC-2500 cameras for TC2 and TC3, with native 4K HDC- 4300 cameras for use in TC1.
The 4K image will be delivered over an IP infrastructure instead of a standard, traditional SDI signal. "If they went 4K baseband through quad SDI, it would have required a mega router for the HD and 4K signals.
"Although it requires some investment in IP infrastructure, namely switchers, there are big savings on the size of the video router, so 4K over IP was a potential cost saving," says Smith.
Imagine Communications' Platinum IP3 router (pictured) provides signal routing, distribution and monitoring capabilities. Studioworks required SDI at 1080i50, but with the ability to support 1080p50 as well as UHD and HDR formats, and IP standard SMPTE 2022-6/7.
Studer audio mixing desks were supplied by Harman, including Vista X consoles for TC1 and TC3 production, and Studer Glaciers for TC1 and TC3 grams desks.
Riedel is providing hardwired and radio comms systems based on the manufacturer's Artist 128 Frames, three of which are interconnected over fibre for use as a standalone intercom or networked together for use across the whole facility.
The ability to start almost from scratch in a building that hosted its first programme back in 1960 has also provided Studioworks with the chance to upgrade what McLaren refers to as the "behind the scenes, less shiny stuff ", such as new air conditioning units.
"It may seem like a very unsexy thing compared with 4K technology, but it is something that clients appreciate so much," she says.
"We have put in new power and distribution, the studios have been completely rewired and we have touchscreen hoist and lighting control panels on the studio floor. A lot of that will be noticed by clients but it's probably not something you would immediately see when you walk in the studio. The whole building has been engineered to bring it into the 21st century."
Studioworks is two thirds of the way through the upgrade to the lighting and hoists and in the detailed design stage of the systems integration, with systems integrator Dega poised to begin physical work next month, before handing the building back for snagging in around July.
Having worked on HD upgrades at TVC for what was then BBC Resources, Dega is familiar with both the company and the building. Dega helped with the design of the new TVC facility, including proof of concept for Sony's IP router (see box).
"Studioworks knows there will be a requirement for UHD, but also that there is an ongoing requirement for HD, so they have to look at that and juggle the technology and make sure they have the most flexible way to make that work," says Dega director John Cleaver.
"Because they are looking at a part-UHD facility, being able to switch between UHD and HD productions makes it a bit more complicated. One of the main aspects of the fit-out is making sure the switch is seamless."
McLaren makes no bones about the added complexities of running a studio facility when surrounded by flats, shops and a hotel. "We have tried to engage customers to make sure that the turnaround process is as efficient as possible, because we will have to operate in a slightly different way," she says.
"We are lucky in that we have an understanding landlord that wants us to be a success and has been quite flexible in making sure we have full access for set unloading. We will also have an 8,000 sq ft storage wedge to store sets when we turn around studios, and we will be able to function as a 24-hour-turnaround facility. It will be harder, but we have been talking to clients for the past four years, so we are confident we have a model that will work."
Studios to flats
TVC is not the only production facility in the capital to make room for a residential development. On the site of what was the Pinewood Group's Teddington Studios facility, some 200 flats are to be built.
Meanwhile, Riverside Studios in Hammersmith was demolished in 2014 and is now being rebuilt, with 165 apartments in an eight-story building that will house TV and theatre studios, a 200-seat cinema and 165 apartments.
In Wembley, Fountain Studios has closed to make way for around 5,000 homes.
It's too early for Studioworks to confirm which shows are likely to be the first to use the revamped TVC, but one of the most well-known recent residents of TC1, Strictly Come Dancing, will remain in its new home at Elstree Studios for at least the next series.
Those that do return will be able to pack in a bigger audience, with TC1's seating capacity increasing from just under 400 to 600, but McLaren has been anxious to keep some of the facilities' old features.
Elstree expansion
After vacating TVC, Studioworks moved to Elstree Studios, where it took over Stages 8 and 9 and one of the George Lucas stages. That is in addition to operating studios for EastEnders and Holby City and the 11,800 sq ft Studio D at BBC Elstree Centre.
Although the move to Elstree was seen as an interim one, Studioworks wants to maintain its presence there, which will result in the business managing a larger total amount of studio space than before it temporarily moved out of TVC.
"It has been very important to us that people recognise it as the old TVC," says McLaren.
"We have retained some of the things that made it a great place to work before, such as the old studio signs. Fundamentally, it will have the same feel, albeit as a smaller part of a bigger site, and we want people to remember the shows that were in there over the years."