SATURDAY: The Voice UK failed to get a boost from its new coaches, as the BBC1 show returned for its fifth run with a nearly million fewer viewers than last year.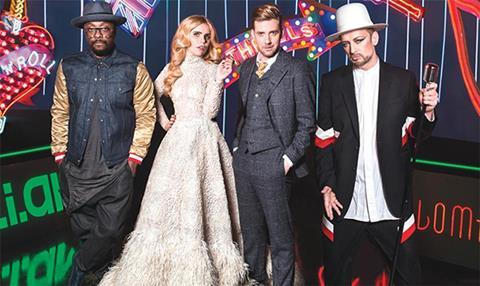 The Voice UK (BBC1) 7.30pm-9.05pm
7.1m (32%)
The Talpa Media and Wall to Wall singing contest welcomed Boy George and Paloma Faith to the coaching line-up.
However they failed to bring in new viewers as the show was down on last year's debut of 8m (35.9%) and was the second lowest-rated series launch to date.
The format was still the highest-rated show of the day and easily topped BBC1's slot average of 5.3m (26.3%) for the past 12 months.
The programme also grew its audience during the time it was on-air and peaked with 8.8m (38.3%) at 9.03pm, according to overnight Barb figures supplied by overnights.tv.
Later in the evening, Noel Edmonds jetted in to release the big money balls on The National Lottery Live, which had a record jackpot of £66m.
The special draw was seen by 5.2m (24.1%) between 9.55pm and 10.05pm, peaking with 5.8m (28.8%) in its final minute.
Ninja Warrior UK (ITV)7pm-8pm
4.1m (18.8%)
The third episode of ITV's physical gameshow pulled in a series high audience.
It was followed by Take Me Out, which drew 3.3m (14.7%) form 8pm to 9.15pm, while the new series of The Jonathan Ross Show debuted with 2.3m (11.1%) over the following hour. This was nearly exactly in line with the equivalent episode last year.