NAB 2017: Timecode Systems will use NAB to showcase tools and workflows for making 360-degree and VR video shoots more efficient.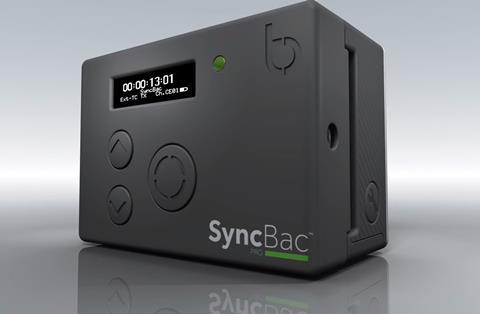 At the Las Vegas trade show, Timecode Systems will unveil how its SyncBac Pro and Blink Hub can be combined to offer a timecode synchronisation solution for GoPro cameras in VR rigs.
SyncBac Pro is a clip-on GoPro accessory that wirelessly syncs the wearable cameras with professional cameras and audio devices over long-range RF. It was launched at last year's NAB.
Blink Hub is the company's remote monitoring and control system.
"Over the past few years, more and more video production companies, advertising agencies, and broadcast networks have started experimenting with VR filming, but integrating 360-degree content into professional production workflows has been time-consuming due to the manual process of synchronising the multiple streams of non-timecoded footage," the company said.
"The main challenge of using 360-degree content more in television is being able to capture and produce VR content to the same standards, and with the same efficiency, as mainstream multicamera filming methods."
A new update to the Blink Hub app will include "a highly customised virtual reality feature that makes it simple to treat multiple GoPro cameras in a rig as one.
"Whether there are six or 24 cameras in a spherical array, this solution takes the guesswork out of VR filming by making it easy to view, monitor, and control every camera centrally from a single screen on any smartphone, tablet, or Mac," the company said.