Camera operators have a transmitter housed in a backpack to send signals back from Women's Super League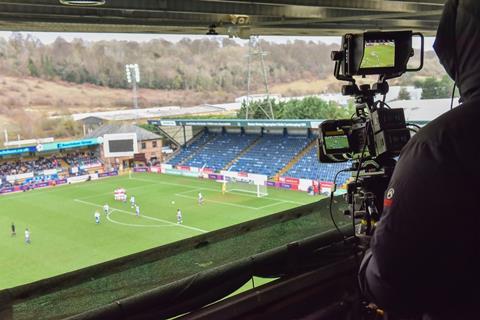 The FA Women's Super League (WSL) is making use of an innovative remote production system, devised by Timeline TV.
It's being used for coverage of the first season of WSL as a fully professional league by producer Whisper Films and technical partner Timeline Television.
The new remote system is allowing Whisper to handle several OB multi-cam productions from grounds around the country simultaneously on match days, within tight budgets and without compromising on broadcast quality.
"With up to four matches to cover, we needed a reliable, mobile OB system across multiple venues," said Timeline managing director Dan McDonnell.
Timeline worked with Mobile Viewpoint to develop a 4G bonding & IP transmission solution in a backpack. The backpack integrates a transmitter and the camera control interface systems in a single, portable package.
Timeline developed a system built within a Blackmagic Design camera system environment, using Blackmagic's open SDI camera control protocol to build a bespoke control solution.
The WSL camera package consists of eight URSA Broadcast units that can be used pitch-side each weekend, in a variety of set ups.
"We can use the URSA Broadcasts, paired with our B4 lenses, to provide high quality content for Whisper Films to produce the final match mix," said McDonnell. "It's like having two cameras for the price of one, as we can track the players around the pitch with crisp and fast-paced footage from the gantry, and then produce pre and post-match interviews."
Each camera operator has a transmitter housed in a backpack for signal transmission back to the central control unit, allowing them to roam freely throughout the stadium to capture the action and atmosphere. "It's incredibly quick to set up - the operators switch on the cameras and backpacks, and they are ready to go, so we can quickly adapt our production plans to have more or fewer cameras at a match, dependent on the league's requirements."
Back at Timeline HQ, the central control unit is built around the Blackmagic 3G-SDI Arduino Shield and allows an operator to have access to all of the URSA Broadcasts' features, from iris, zoom and colour temperature, as well as tally and talkback.
As well as the high-resolution camera signals, an additional low-res feed is also sent carrying all the camera settings. "Essentially, we've eliminated the requirement for a full, static router, which normally is in place for a camera control unit to feed through, either in a studio gallery or a physical OB vehicle on location," said McDonnell. "Working over IP channels provides reliable and consistent remote signal feeds from wherever we are around the country, and this, combined with Blackmagic's open protocol has given us the flexibility to devise a high-quality remote production solution that meets broadcasters' strict standards for live sports coverage."
For daily broadcast sports stories, covering sport production, distribution and tech innovation, visit Broadcast Sport and bookmark the Broadcast Sport homepage, http://www.broadcastnow.co.uk/sport
Timeline's engineers have developed technology and workflows so that in the production gallery the operation has the feel of a traditional outside broadcast.
Technology and workflows developed include remote camera racking, a talkback network delivered via a mobile phone app, and a low latency streaming solution working with a portable high brightness monitor for presenters to see programme output.
Timeline will continue to provide all the Women's Super League footage with the remote production system, and is looking to transfer it to other sporting leagues, tournaments and touring events. "The ability to control an entire multicamera system via IP means that we can produce comprehensive coverage of high-profile events from anywhere in the world, without having to send a huge amount of staff or equipment out to the venues," said McDonnell. "Plus, the future rollout of 5G will support higher quality transmission and more widespread production opportunities."