BBC1's Sherlock was festive fortnight's highest-rating drama, while ITV unveiled its new Saturday line-up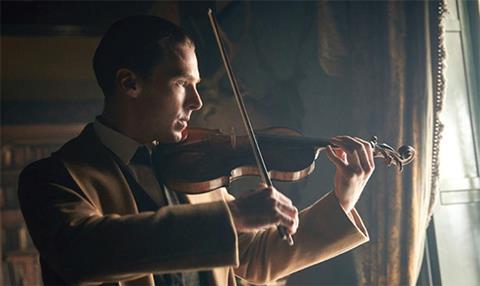 The beginning of this post-Christmas week saw the last vestiges of festive programming, the offering of stuff sympathetic to the tired on New Year's Day and, by the weekend, the early cranking up of the winter schedules.
ITV got its Saturday going immediately, before kicking off a Sunday night drama battle with BBC1. The latter was happier than the former, which had to rely on a sturdy returner to recover the losses of a medieval newcomer.
On Monday at 9.05pm, BBC1's three-parter And Then There Were None ended on 5.3 million/ 24%; down from the opener's 6 million/28% but up on episode two's 5.1 million/24%. Opposite, ITV's John Bishop's Gorilla Adventure mustered 2.5 million/ 11% (109,000 +1). Channel 4's final Gogglebox of the year was not far behind with 2.2 million/10% (360,000 +1) for 95 minutes.
On Tuesday at 8pm, BBC1's Holby City drew 4.2 million/20%, followed at 9pm by David Beckham: For The Love Of The Game on 3.6 million/18%. Opposite from 7.30pm, ITV's movie The Amazing Spider-Man captured 2 million/9% (184,000 +1).
On Wednesday at 8pm, BBC1's Antiques Roadshow delivered 3.7 million/17%, ahead of ITV's Big Star's Little Star (3.3 million/15%; 136,000 +1). At 9pm, BBC1's Great Barrier Reef With David Attenborough (4.1 million/19%) defeated ITV's It'll Be Alright On The Night (3.1 million/14%; 247,000 +1).
On New Year's Eve, ITV's 60-minute Emmerdale won with 5.2 million/27% (103,000 +1) at 7pm, followed at 8pm by Coronation Street's 5.7 million/30% (167,000 +1). At 8.30pm, ITV's Panda Babies delivered 2.6 million/15% (119,000 +1). Opposite from 7.30pm, BBC1's repeat of Esio Trot managed 2.1 million/11%. But midnight belonged to BBC1, where the New Year's Eve Fireworks averaged 12.5 million/63%. From 11.55pm to 12.10am, ITV News averaged 1 million/5% (37,000 +1).
On New Year's Day, David Walliams' comedy-drama Billionaire Boy on BBC1 attracted 5.1 million/21% at 7pm, opposite ITV's Emmerdale (6 million/25%; 208,000 +1) and Coronation Street (6.7 million/27%; 222,000 +1). At 8pm, BBC1's EastEnders drew 8.3 million/33%, while at 8.30pm, 4 million/16% found the fifth episode of Dickensian, opposite ITV's Coronation Street (6.3 million/25%; 290,000 +1). At 9pm, BBC1's Sherlock took home the biggest live drama audience of the fortnight with 8.4 million/35%, trouncing ITV's The Big Quiz: Coronation Street V Emmerdale (3 million/ 12%; 164,000 +1).
ITV launched its new Saturday night schedule with Ninja Warrior UK at 7pm (3.8 million/18%; 246,000 +1), followed at 8pm by Take Me Out's 3.7 million/17% (363,000 +1), nearly 800,000 more than last year's launch. At 6pm, BBC1's Bruce's Hall Of Fame With Alexander Armstrong achieved 3.9 million/20%. At 7.15pm, BBC1's Iron Man 3 drew 4.2 million/20%.
On Sunday at 6pm, ITV's second Ninja Warriors UK (2.9 million/13%; 242,000 +1) was followed at 7pm by Beowulf: Return To The Shieldlands' 2.3 million/10% (279,000 +1). Opposite, BBC1 staples Countryfile (6.9 million/31%) and Still Open All Hours (6.2 million/26%) at 7.30pm proved too strong. Following Antiques Roadshow at 8pm (5.2 million/20%), BBC1 launched War And Peace with a winning 6.3 million/25%. Opposite from 8pm, ITV's Endeavour began with 4.4 million/17% (384,000 +1).