Sports businesses reveal the content that works best on different platforms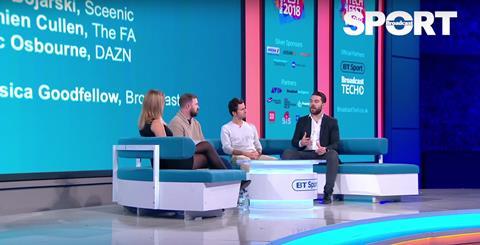 The FA and DAZN, along with shared viewing platform Sceenic debate how tech changes can help drive fan engagement, in the second of our filmed panel discussions from the Sports Tech Innovation Forum held at BT Sport studio, 22 November 2018.
With consumers accessing sports content through linear, bespoke OTT and a growing assortment of social media platforms, how do broadcasters and rights holders get content out to fans in the most appealing, wide-reaching and cost-effective ways?
And how do they use non-revenue generating platforms to enhance fan engagement?
Find out more in this 40-minute panel discussion.
The panel is
Luc Osbourne, DAZN
Paul Bojarski, Sceenic
Damien Cullen, The FA
The chair is Jess Goodfellow, Broadcast