5G anticipated to drive improvements in fan engagement and open up new revenue opportunities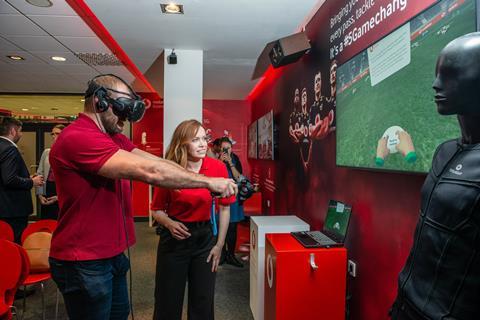 Vodafone has released research revealing sports organisations believe the rollout of 5G will drive new and innovative fan experiences.
The telco questioned 250 decision-makers in the sports sector across the UK, with 76% of respondents saying they will use 5G as a platform for innovation and 5G will enable them to improve fan engagement.
The applications suggested for 5G include live-streaming video, mixed reality experiences and real-time access to information for those at the event or watching elsewhere.
More broadly, Vodafone asked respondents for their views on innovation in sports. 78% believe the sports sector drives "incredible" innovation, although 70% believe it's behind other industry sectors in adopting new technology.
Anne Sheehan, director, Vodafone Business UK, said: "Sport is an area where 5G technology will have a huge impact. It has the potential to transform the fan experience; change the way sports organisations operate, open up new revenue opportunities; and help athletes improve their fitness and training programmes. Our holographic call with Steph Houghton last year was a great example of how technology can be used to bring fans closer to the action and give them experiences that were previously out of reach."
Vodafone tied in the revealing of its survey results with the opening of an innovation space at the Ricoh Arena in Coventry (pictured above). The Vodafone Business Lounge gives businesses in the West Midlands access to digital expertise and an opportunity to experience the latest technologies such as 5G, the Internet of Things (IoT) and high-speed fibre.
The same day Vodafone's report was launched, Bolt, a media partner of the 2019 Rugby World Cup issued a related comment about the impact of 5G technology in sport.
Bolt founder and CEO Jamal Hassim, said: "The introduction of 5G brings with it a suite of products that can enhance the experience for both players and the viewers, including better intelligence gathering, game predictions, and game tracking. 5G will enable better filming technology, rendering multi-dimensional viewing experience. The 2020 Olympics in Tokyo is truly going to be a technological spectacle as well as being a sporting one, with Japan already leading the efforts of integrating 8K broadcasting, 5G network capabilities and 3D athlete tracking."