Ultra HD, cloud-based solutions and unmanned aerial vehicles are set to be the big themes at the NAB trade show in Las Vegas. Michael Burns offers his pick of the technology on display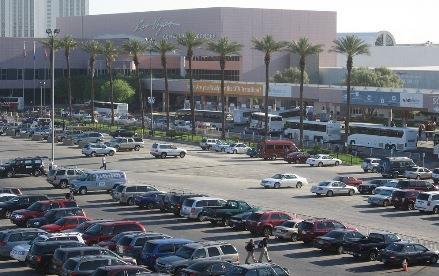 North Hall
Ross Video
In what is bound to be an eye-catching display, Ross Video (N3906) is showing a complete virtual and augmented reality production studio, based around Ross Robotics, an XPression motion graphics system and Ross Virtual Solutions components.
The latest iteration of XPression includes Ncam integration for augmented reality and virtual sets, Grass Valley Edius NLE integration and QuickTime export.
In a bid to woo sports broadcasters, XPression graphics and an Acuity Series production switcher will power a 20ft screen and ribbon board at NAB.
The Acuity offers UHD production with eight keys/16 channels of DVE per ME, multi-feed configurable programme outputs with two preview and six programme outputs for each ME, 36 channels of systemwide media stores, expanded dual head and 20 source window multi-viewers.
Ross Mobile Productions is showcasing FIN5, an HD production truck based on its openTruck standard.
Integrated technology in the Mercedes Sprinter Class vehicle will aim to produce high-quality, network-level mobile productions at a lower cost than previously possible, the Canadian firm claims.
Imagine Communications
Imagine Communications (N2702) is launching cloud video platform Cloud- Xtream for multiscreen video distribution and monetisation.
Imagine says it supports live video, VoD, cloud DVR (cDVR), dynamic ad insertion (DAI), packaging, encoding, transcoding and storage management.
CloudXtream can also enable the creation of incremental paid service offerings for broadcasters' subscription-based OTT businesses, as well as personalisation and management of content for users, according to Imagine.
Imagine is also launching Premium Azure, a multimedia encoder developed in collaboration with Microsoft. The cloud-based offering features a studio-quality processing engine with automated decision-making logic and advanced metadata processing. It supports numerous input and output codecs and file formats.
Imagine will also showcase the Platinum VX series of 3G/HD/SD triple-rate routers, supporting matrix sizes up to 288 x 288 and offering Magellan set-up and configuration utilities.
Evertz
Evertz (N1502) is to exhibit the latest member of its EQX routing family, the EQX10 (below), which supports 180 x 180 or 180 x 360 inputs and outputs in a 10RU frame.
Evertz will also exhibit its 7815VPDA dual-path broadcast- quality video processor/ distribution amplifi er, and its 7881IRD professional integrated receiver/ decoder platform.
Central Hall
Arri
Arri (C4337) is following its surprise announcement of the Alexa Mini with the Alexa SXT (Super Xtended Technology) range.
Intended for release around mid-2015, the full range will comprise Alexa SXT EV, SXT Plus and SXT Studio models, replacing current Alexa XT cameras.
The cameras support in-camera recording of ProRes 4K UHD and ProRes 4K Cine, and feature three fully independent HD-SDI outputs.
The Arri's 3.4K ALEV III sensor has been retained and offers image processing, advanced pixel correction and optional noise reduction based on technology from the Alexa 65 camera.
The range features an advanced colour management engine that takes advantage of the wide native colour gamut of the Alexa sensor.
A new type of look file, the ALF-2 (ARRI Look File 2), contains an ASC CDL as well as a 3D LUT.
The Alexa SXT cameras incorporate a newly revised Codex recording engine and support the latest SXR capture drives, which offer a data rate of 20GB/s.
The SXT cameras also have a new media bay, developed by Codex, that features adaptors for XR and SXR capture drives, SxS cards and CFast 2.0 cards.
Codex
Codex (C1817) is launching Codex Review Live, an on-set colour look creation and colour management system for episodic TV and motion picture production.
The company is also showcasing the Codex Action Cam package, the latest Vault end-to-end dailies and archiving solution, new media transfer products and the Codex Backbone media management system.
Canon
While there is no concrete news from Canon (C4325) ahead of the show as Broadcast TECH went to press, there are strong rumours that NAB will see the unveiling of mark II of the Cinema EOS C300 (right), with 4K capability.
Also rumoured to be making its debut is a fixed-lens 4K Cinema EOS camera, possibly aimed at the drone market.
Sony
Sony (C11001) is using NAB to focus on bringing 'true' 4K (4096 x 2160) to the fore, from acquisition to archiving. It will also push the benefi ts of IP for live production systems, as well as integrated end-to-end workflow solutions, its cloud services, known as Ci, sports production services (HawkEye) and optical disc archive systems.
Also expected are software and firmware upgrades that open up existing hardware to newer formats and functionality.
South Hall Upper
Avid
Avid (SU902) announced its Pro Tools 12 digital audio software just prior to NAB, but the bigger news may be the further expansion of its Avid Everywhere cloud-based collaborative vision.
Pro Tools 12 offers new monthly payment options and an integrated set of collaboration workflows that make it easy for groups of audio professionals to use the cloud to work together on the same project.
A new open, universal metadata schema helps users and rights owners manage, track and document every asset and project they create, wherever it ends up.
Also being pushed is Avid Marketplace, which allows Pro Tools users to engage with a community of other artists, acquire new plug-ins and apps, and easily store and share their work online.
In a pre-NAB briefing, Avid chief executive Louis Hernandez revealed to analysts that in the wake of the free Pro Tools First release, every product in the Avid Artist Suite, such as Media Composer, will eventually have a free version.
With such tools offering professional features yet limited project capacity and storage space, Avid will sell upgrades and storage for all products through Marketplace, as well as apps and content, in a process similar to the Apple iTunes model.
The company will also roll out Media Suite enhancements at NAB, improving asset management and storage capabilities.
Deluxe MediaCloud
Deluxe MediaCloud (SU8905) will be demonstrating an end-to-end 4K workfl ow using multiple connectivity paths through different ISPs, live and in real time.
The workflow, from content capture through production to playout and distribution, will see 4K content streamed directly to the stand via Deluxe MediaCloud's software service platform.
AviWest
AviWest (SU6716) is showcasing a new version of its Digital Mobile News Gathering (DMNG) Studio server.
The Linux-based server is capable of receiving incoming streams from DMNG video uplink systems, as well as third-party products such as IP cameras, through a variety of protocols.
It supports multiple output formats and allows for point-to-point and point-to-multipoint video distribution. The new DMNG Studio system enables inputting video signals from the studio mixer and streaming to the cloud, while AviWest's DMNG app turns any smartphone into a live broadcast video camera.
Also launching is a specially designed backpack for the DMNG Pro video uplink system, for use with a handheld camera.
Dolby
Dolby (SU1702) is aiming to be a talking point again at NAB by showcasing its latest Dolby Audio, Dolby Atmos and Dolby Vision technology implementations.
The Dolby AC-4 emission codec at the heart of the Dolby Audio system aims to make production, distribution and delivery of consumer broadcast experiences more effi cient, while the three-dimensional Dolby Atmos system has been extended from cinemas to domestic audio delivery.
LiveU
LiveU (SU4405) is showcasing its compact 500g LU200 (left), which features two built-in 4G LTE/3G modems with integrated antennas, enabling each field camera to be equipped with a bonding uplink unit.
LiveU is also updating its collaboration with Panasonic, enabling its P2HD series camera recorders to connect directly to its central system and cloud services for live transmission.
South Hall Lower
Red
Red There's another camera on the way from Red (SL1517) it seems, or at least an upgrade for Red Epic Dragon (right) and Red Scarlet Dragon cameras.
The Red Weapon will be unveiled at NAB and is expected to be available in late summer or early autumn.
Details were sketchy at the time of writing, but rumours suggest this is a lowlight camera with a smaller, quieter body that offers wi-fi and remote-control operation.
Red Weapon is not planned to support Redmag Media and will instead use smaller, more compact Mini-Mag media. Existing DSMC lens mounts will also be compatible with Red Weapon.
For purchasers worried about having the 'Weapon' name on the camera, Red is offering a 'stealth branding' option.
AJA
AJA (SL2505) is showcasing field-upgradeable firmware for its Cion 4K/UHD/2K/HD production camera, now shipping after last year's NAB debut.
Also on show will be SDI Mini-Converters (below) and FS frame synchronisers/converters with real-time broadcast scaling technology options and MADI capabilities.
Quantel and Snell
Quantel and Snell (SL2009) are showing advances such as Pablo Rio handling 8K 60p in real time, enhanced team workfl ows with QTube, and the LiveTouch sports highlighting system with integrated editing.
Morpheus and ICE enhancements on show at NAB aim to deliver an on-screen presence more efficiently, while adaptive cadence detection on Alchemist OD aims to streamline workflows.
Vitec
Vitec (SL6305) is introducing MGW Ace (below), a hardware-based HEVC portable device for encoding and streaming video.
The portable device offers HEVC/H.265 bandwidth-effi cient compression as well as legacy H.264 capabilities.
Also on show is a new add-on for IPTV and broadcast monitoring for the EZ TV system. This offers real-time video analysis and statistical tools to monitor, log and generate performance reports for all IPTV streams.
It complements any IPTV deployment with quality and compliance dashboards, as well as alerts, to ensure video, audio and metadata services are delivered to users.
SGO
SGO (SL3825) is presenting version 8.5 of the Mistika colour grading and fi nishing system, which can harness multiple GPUs and CPUs to deliver real-time image processing via its Cluster Playback facility.
Also being launched is the Mistika Precision Control Surface, for controlling the fi nishing process, as well as version 2.06 of the Mamba FX compositing software.
EVS
EVS (SL3817) is unveiling new solutions for live production, including the 'FanZone' with partner Cisco, which will showcase live capabilities for sports arenas that deliver exclusive content to fans and displays throughout a stadium.
A multicam engine software upgrade for the XT3 production server will offer increased SuperMotion camera confi gurations, while delivering more ingest and playout options for live workfl ows.
EVS is also demonstrating new integration with the Adobe Anywhere collaborative video workfl ow platform.
Through the EVS IPLink plug-in extension panel for Adobe Premiere Pro CC, EVS will provide editors with highspeed access to live content while content is still being ingested, and allow easy delivery for fast playout. The first four winners of EVS' C-Cast APPlied Challenge will also be on show (see page 8).
iZotope
Ahead of NAB, iZotope (SL4330) unveiled its new RX Loudness Control plug-in, which will allow video and audio editors to select the broadcast standard to which they wish to adhere, from a set of global templates.
The plug-in, which will be demonstrated at the show, can analyse audio and renders out a compliant file and an accompanying CSV-formatted loudness report.
It supports mono, stereo and surround channel counts up to 5.1. RX Loudness Control will be demonstrated at NAB.
Vizrt
Vizrt (SL2417) will demonstrate the latest version of its Viz One Workflow Engine asset management system.
It includes a new graphical workfl ow designer tool based on BPMN (business process model and notation) 2.0, with pre-made modules that help users build custom configurations using a drag-and-drop workflow.
It also includes simplified reporting tools and panel integration in Adobe Premiere Pro.
Drones take flight at NAB
One of this year's innovations is the Aerial Robotics and Drone Pavilion in the South Upper Hall.
Presented by the Drone Media Group, this new exhibition area reflects the huge increase in drone use by news and documentary film crews in recent years.
The new area will feature dozens of aerial robotics companies and daily demo sessions in a 'flying cage' demonstration area.
This three-sided mesh cage features a large demo screen and has adjacent seating for more than 90 delegates.
Topics for the sponsored presentations include laws and regulations surrounding drones, the use of drones for newsgathering, capturing aerial video and employing range extenders, and a 'drones in space' case study from Nasa.
The major sponsor for the pavilion is China's DJI, which is bound to be heavily promoting its Inspire 1 drone and other UAV technology.
Other exhibitors include Canon, Amimon, DSLR Pros, XFly Systems, TeraLogics, Go Professional Cases, ArrowData,Sky High Media, ZM Interactive and Unmanned Vehicle University.
This article is taken from the March/April issue of Broadcast TECH