Sports producer seeks new investment four years after joining Growth Fund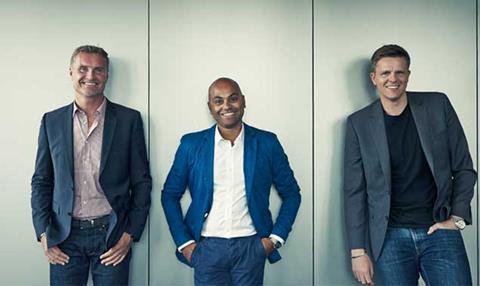 Jake Humphreys and David Coulthard's Whisper Films is eying an exit from Channel 4's Growth Fund.
The sports-focused indie, led by co-founder Sunil Patel, has appointed Imagine Capital to help it find an investor. The move comes almost four years after Whisper secured funding from the broadcaster, which subsequently grew its stake to the maximum 25% permitted.
Imagine Capital was founded by former Shed Media chief executive Nick Southgate.
Patel is understood to have conducted initial discussions with several UK and international potential investors, ahead of kicking off a more formal process later this month.
Humphreys, Coulthard and Patel are thought to be keen to retain a controlling stake in the business rather than seeking an outright sale.
Under C4, Whisper grew its annual turnover from £1.5m to almost £20m, according to the Broadcast Indie Survey, driven by a lucrative £30m, three-year contract to produce the broadcaster's Formula 1 coverage.
While C4's motor-racing rights are due to expire next year, Whisper has secured a number of other contracts including C4's 2020 Paralympics, S4C's 2019 Rugby World Cup and this weekend's Women's FA Cup Final for BBC1.
It is host broadcaster of this year's inaugural SailGP competition and women's motor-racing W Series, which gets underway on C4 on Saturday.
Whisper has also diversified into documentaries, landing a number of commissions including Fergie vs Wenger: The Feud for Channel 5.
The business has been named as one of Broadcast's Best Places To Work for the past three years.
Whisper joins C4 sister firm Barcroft Studios in seeking an exit from the Growth Fund. In March, Broadcast revealed that Sam Barcroft's digital-focused business has appointed Deloitte to oversee an outright sale.
Last month, C4 appointed Caroline Murphy, a former global director of strategy and M&A for Fremantle, to oversee its Growth Fund. Murphy is to be based in C4's national headquarters from September.
Whisper Films declined to comment.