Not only does Thailand boast exotic jungles, beaches and a tropical climate, it also has experienced technicians who are used to working on international productions and are good value for money.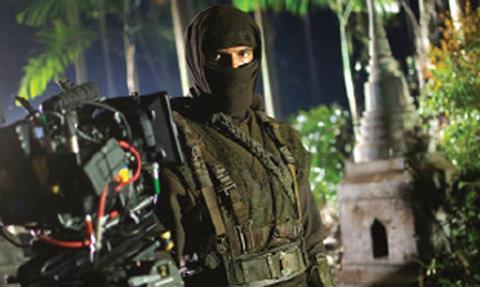 They have recreated 1970s London street scenes in Bangkok for Millennium Films' Mechanic: Resurrection, starring Jason Statham and Jessica Alba, and modern-day Osaka for Thailand-US co-production Ninja: Shadow Of A Tear. A new series of Sky's military TV series Strike Back also shot in the territory last year.
The Thai cabinet this year approved an incentive programme with details still to be ironed out. The initial idea is to offer a 15% cash rebate with an expected launch in 2017, but the cabinet still needs to approve these details.
The Lowdown
Financial incentives
Thailand has double-taxation avoidance treaties with several countries; income tax is 10% for foreign actors. Further details www.thailandfilmoffice.org
Infrastructure
The country has several sound stages including Moonstar Studios and ACTS Studio in Bangkok, and warehouses can be rented cheaply to build indoor sets. Production services companies such as De Warrenne Pictures tap a large pool of freelance fi lm crews, often bilingual, handling everything from low-budget to big-budget shoots.
Where to stay
Thailand has a variety of world-class hotels at competitive prices. Jason Statham, Jessica Alba and Michelle Yeoh stayed at Six Senses Resort off the coast of Phuket for Mechanic: Resurrection. In Bangkok, crews often stay in apartments on Sukhumvit Road.
One night in Bangkok…
In Bangkok, A-listers often frequent Ku De Ta restaurant and nightclub, Vertigo and Moon Bar at Banyan Tree hotel for rooftop dining, and Maggie Choo's restaurant and bar concealed beneath the Novotel Fenix Silom.
Size matters
Similar in size to France at 513,000 square kilometres, Thailand has good travel infrastructure, with everywhere 70 minutes by plane from Bangkok. The main sound stages and locations in Bangkok are usually reachable under an hour by road from Sukhumvit Road.
Frank DeMartini, producer, Mechanic: Resurrection
"Mechanic: Resurrection cost about $40m to shoot in Thailand. To shoot where it's located in the script would probably cost $100m-$120m. But you can 'double' Bangkok for a lot of places in the world. The construction teams here are fantastic, just as good as in Hollywood."
D'Hive is buzzing
D'Hive, the planned international media hub, broke ground in the Songjiang district of Shanghai on April 27, 2015. It is expected to take 18-24 months to complete the first phase of construction in China's most densely populated city. When fully built, D'Hive will encompass 390,000 square metres of media facilities, a conference centre, two hotels, a business park and residential and commercial areas.
The $1.5bn project is being driven by Singapore-based consultancy and film financier Cubix International and Chinese-US real-estate developer Bestlinkage Group, with backing from the district government of Songjiang. D'Hive will offer local tax, rental and set-up incentives, along with production funding and on-site consultation. It will be the first facility of its kind in Asia.
"There is no similar model that houses a majority of foreign companies and individual media professionals in a single location, producing international quality film," suggests Benjamin Toh, chairman and executive managing director of Cubix. "D'Hive is being developed for international co-productions, providing a one-stop service for film, TV and media production companies looking to produce content in custom-built studios. It will advise on all aspects of co-production, including licensing, HR, artist management and film distribution in the international market."
China is the world's second biggest film market after North America, and this growth has brought with it attractive production and location opportunities. Organisations to have already taken advantage of these new relationships include Disney, which will open Shanghai Disneyland later this year, and Dreamworks Animation's Oriental DreamWorks, which is building its Dream Center in the city.
"Market size and turnover are key in attracting international companies to shoot and produce their projects in China," acknowledges Toh. Equally important are the availability of globally competitive incentives. Those companies who make their home at D'Hive will benefit from the waiving of local district company tax for the first two years of operation, with only 50% being payable in the third year, along with a 50% subsidy in their incorporation fee.
D'Hive will serve as a valuable entry point into China's potentially lucrative but unfamiliar market by providing hands-on navigation of the country's business terrain. Toh explains the facility will "speed up a company's learning curve in China, by assisting with WOFE [Wholly Foreign Enterprise] incorporation, development grants for co-production friendly projects, business matching with Chinese companies and professional training programmes. We have also created a management system, whereby we facilitate the administration of things such as application submissions and approval."
With so much on offer, it's little surprise a raft of companies are already in negotiations to take offices in D'Hive, including Singapore's Yellow Box Studios and Shooting Gallery Asia, Canada's Mokko Incubation School and the US's Latitude Entertainment.