O21 Television is providing outside broadcast facilities for Sky Arts' programming around One & Other, the human sculpture project in which the general public occupies the empty Fourth Plinth in London's Trafalgar Square.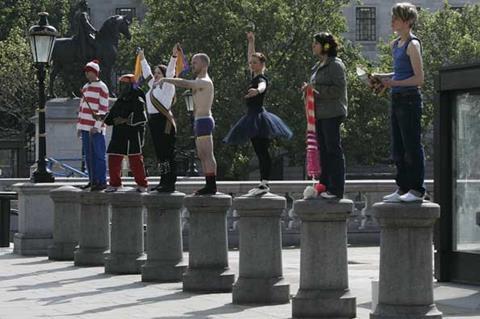 Content is being recorded for the production of one-hour reports on the event, hosted by Clive Anderson and transmitted to UK television viewers on Sky Arts 1 HD each Friday.
An HD feed is also being down-converted to deliver a 24/7 web stream via www.oneandother.co.uk.
The broadcast set-up is made up of 021's flyaway facility which includes four Sony HDC 1500 cameras for the studio and another three Hotcam remote radio frequency cameras for the plinth. Camera Corps' Q-Ball all-weather robotic cameras are also being used.
There were several challenges. As cables are not allowed into Trafalgar Square, O21 used radio and microwave connectivity to get signals back to hubs. And all communications had to be done via Wi Fii as mobile phones are banned.
Steve Boland, the project consultant for O21 Television, was responsible for designing the architecture of the system that allows full remote control functionality of the plinth pictures and audio. He said: "Achieving the highest video and audio quality 24/7 via wireless connectivity between the plinth and production control, together with an end-to-end workflow to manage 2400 hours of material, is the culmination of months of planning."
Antony Gormley, the artist who came up with the concept of One & Other, was also heavily involved in the aesthetics of the production. Cameras, microphones and lights were located around the plinth in a way that was sensitive to the design of the structure, but would also allow maximum functionality.
The 'One & Other' project is taking place on the Fourth Plinth in the north-west quarter of London's Trafalgar Square.
Every hour, 24 hours a day, for a consecutive 100 days, individual volunteers make the plinth their own, doing whatever legal action, performance or activity they want.
A total of 2,400 people are expected to participate until October 14.