BVE 2016: A palm-sized 4K camera with a micro four-thirds lens mount was on show at the Excel this week.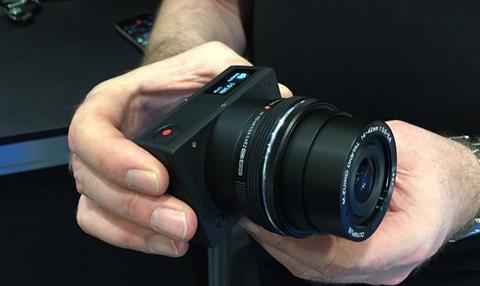 The E1 Camera, by Chinese start-up Z, is the brainchild of Jason Zhang, a former member of the GoPro development team.
Like GoPro's devices, the E1 is aimed at those capturing action and sport and is "ideal" for drones, the manufacturer said. It is also being positioned as an alternative to "cumbersome" SLR cameras.
The camera includes a micro four-thirds sensor and its interchangeable lens system means it is compatible with glass from brands such as Olympus, Panasonic, Leica and Sigma.
It shoots 4K 4096x2160 footage at 24fps or UHD 3840x2160 at 30fps with H.264 compression. It can shoot at up to 102,400 ISO with "high image quality" at up to 6,400 ISO.
The E1 is Wi-Fi and Bluetooth enabled and can be controlled via an iOS or Andriod app.
It also features Micro SD, Micro USB and Mini HDMI connectivity.
Last year, Zhang's Kickstarter campaign raised just over £300,000 towards the manufacture of the device. Since then, the E1 has been picked up by electronics distribution firm XGem.
CVP is excpected to be the first UK distributor, with stock due to reach them by early April. The camera is priced at £799 for the body with two batteries an a mains charger.